Strawberry Shortcake – Same Cake, Different Perceptions
Order a slice of strawberry shortcake at a cake shop in Japan and the chances are you will be left feeling baffled. It is a cake with strawberries alright but it hasn't got the look you would have anticipated. Did the staff take the wrong order? Was it a sheer mistake? Before you make a complaint, you should know that shortcake in Japan is a different confection altogether.
The Mysterious Origins
Standard Japanese-style strawberry shortcake is a two or three-layered sponge cake filled and coated with whipped cream and strawberries. Because sponge cakes are seen as confections from the west, many Japanese assume it is a western cake. However, that would not be true for a couple of reasons: first, you wouldn't come across the aforementioned shortcakes anywhere else, and second, strawberry shortcakes you come across in other countries are totally different. The strawberry shortcakes served in countries like America or Great Britain would be either a split scone or layers of shortbread-type biscuits filled with strawberries and cream. Fraisier, an entremet which aptly translates as 'strawberries' in French, resembles in its appearance with Japanese strawberry shortcakes yet it typically contains the likes of custard cream, butter cream and marzipan, with layers of sponge cakes that have less height and springiness. The closest thing to a Japanese sponge cake would be a mash-up of Victoria sponge with the airiness of genoise and the fluffiness of angel food cake. What's more, there is a misconception among the Japanese that the reason why their favorite cake is called shortcake is because it is sliced into neat, short slices when served, or the shelf life of the cake is short. But shortcake is, in an English term, made of short dough which involves the technique of rubbing butter or other shortening fats into floury ingredients, resulting in a crumbly pastry.
It is therefore apparent that there had been a massive makeover by the time strawberry shortcakes hit the shelves of local pastry shops ashore. So who evolved the shortcake to today's form as we know it? The history of this western-style confectionery in Japan reveals two confectioners, both trained abroad. First, it is the founder of a confectionery chain Fujiya, Rin'emon Fujii. After a culinary research trip to the States, Fujii opened the nation's first soda fountain shop in 1914. 8 years later, Fujii started selling strawberry shortcakes and choux a la crème (cream puffs) at his shop in Isezaki-cho, Yokohama. According to the corporate chronology, they were both an immense hit.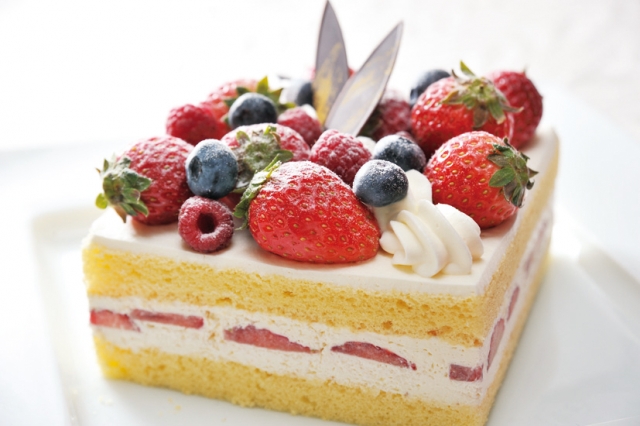 The second man behind the history is Kuniteru Kadokura, who founded Colombin in 1924. Colombin is a prestigious, western-style confectionery manufacturer in Tokyo which is an official supplier to the Imperial Household Agency of Japan to this day. Kadokura was acclaimed for introducing genuine western confectionery based on the methods and techniques he acquired through his field trip to France. And it is said that through his knowledge and experience, Kadokura had masterminded the style of today's strawberry shortcake.
The Nation's Favorite
Despite the ambiguity surrounding its birth, strawberry shortcake is, without a doubt, the nation's most loved fresh cake. A whole cake beautifully piped with whipped cream and decorated with strawberries is common for special occasions such as birthdays and Christmas. Yes, Christmas cake refers to strawberry shortcake in Japan, not a fruitcake, a log cake or even a sweet bread loaf. It is a symbol of happy memories in almost all Japanese's heart and counted as one of the foods the Japanese would miss while they are living abroad.
Because of its simplicity, the latest trend by the local patissiers is to use high quality ingredients, some of which are rare and extravagant. Homegrown seasonal strawberries with the brand name of Amaou from Fukuoka, traditional sugar from Shikoku area called Wasanbon, and eggs from free range chickens fed with nutritious brown rice are some of the wonderful components of a high-end strawberry shortcake served at a five-star hotel in Tokyo at a whopping price of 3,240 yen per slice. Shortcake with juicy melons is also on offer at this luxurious pastry boutique.
Shortcakes with other seasonal fruits like peaches and fresh berries like blueberries and raspberries are also well received. Some cake shops even sell a delicious, hybrid dessert of strawberry shortcake with filling and topping of custard pudding, that is another widely popular western-style dessert, similar to the likes of crème caramel and flan.
Should you ever think of trying a slice of fresh cake in town, give our local strawberry shortcake a chance. The chances are you will be happy that you have given it a try and that you will be asking for a second slice, or even a third.