There is a shopping Arcade called "2k540-AKI-OKA ARTISAN" under the JR. elevated railway. It is located at the place being 2,540 meters away from the Tokyo Station, and just between Okachimachi Station and Akihabara Station. When I strolled in the Jewelry Town Okachimach(TJO), I stumbled upon the arcade.
"2K540-AKI-OKA ARTISAN" was established to form a craftsman's village under the railway by JR. Urban Development Corporation in 2010. This was a part of the effective utilization project of the space being available under the railway. The space under the railway has been conventionally utilized for warehouses,parking lots and humble restaurant bars which cause us to feel a dark and grimy impression.Meanwhile. "AKI-OKA ARTISAN" recreates a new design concept with clean and fashionable appearance of the arcade with flow of fresh air.49 handicraft stalls are lined up on the both sides of the central passage for about 100 meters under the railway. Two rows of white round pillars stand parallelly with each other along the passage. They are also functioning as struts supporting the white-painted ceiling beneath the railway.Those evoke an image of an ancient style corridor being accommodated with pillars.The facades of all stalls are colored with white in sharp contrast with the black passage. The indirect LED lightings create shadows and shades on the ceiling and pillars expressing perspective and stereoscopic image.
The displayed handicrafts in every stall can be seen through the wide transparent glass of the front door from the central passage."2k540-AKI-OKA ARTISAN" presents an open and stylish appearance.Japanese traditional handcraft industries are on the verge of decline in business field due to such reasons as difficulties in getting the qualified raw materials, change of people's life style, aging of skillful craftsmen and shortage of their successors.In such situation, "2k540-AKI-OKA ARTISAN" provides a place and an opportunity for young and energetic craftsmen to demonstrate and sell their handicrafts.
If it attracts shoppers from Akihabara electric town, Ameyoko shopping arcade and Jewelry town Okachimachi, it would create a fresh flow of people between Okachimachi and Akihabara Station. And this arcade is also adjacent to Asakusa, Kuramae and Bakurou-Cho where skilled and young craftsmen open their workshops. It holds advantageous location in terms of tying up with the craftsmen in those areas in future.
The stalls in the arcade are dealing handicrafts related with food, clothing and housing such as dyed textile/clothes, wood and metal works, leather goods, ornaments, stationery goods, toys and so on. Most of the stalls are provided with workshop.
They are promoting the sales of their handicrafts by demonstration of craftwork and also through face to face dialogue with their clients. They are trying to explain about their craftwork by emphasizing handmade warmth, tenderness and soothing which are hardly created in machine-made mass production. Some of the shopsperiodically impart a hands-on class for clients to understand their handicrafts.
"2k540-AKI-OKA ARTISAN" also have a common event space in the arcade on the side of Akihabara Station, where other craftsmen other than the existing tenants are able to promote the sales of their handicrafts.The activities of young craftsmen in the arcade are showing a trend like "Arts and Crafts Movement" in the 19th centuries in Europe.
"2k540-AKI-OKA ARTISAN" Arcade is a village of aggressive young craftsmen who are creating their craftworks in response to changes of clients' taste and preference.They are frontiers to develop up a new field of Japanese handcraft.During visiting the arcade, I was impressed by the following craftsmen's stalls.
1. Nippon Hyakkaten (Department store of handicrafts).
They are a retailer as well as a coordinator who is selling handicrafts manufactured by young craftsmen across the country. They select qualified articles and exhibit those in the stall. They have a wide range of selections from clothing, accessories, ornaments,stationery goods, food stuffs and so on. They periodically coordinate a demonstration performed by the craftsman in the common event space of the arcade.
2. Kukan Kobo Takuya(Furniture and miscellaneous interior items)
They provide customized wooden furniture to fit into limited space in urban house.They have much concern about the application of eco-friendly paint being made of extracts from natural organic plant, and also about the usage of less-deformed timber that is seasoned in open air for 2-3 years.
3. Eishin Randoseru Factory(Leather Satchels)
They are a manufacturer as well as a seller for schoolchildren's leather satchel which is originated in Ransel in Dutch. They are manufacturing various styles of colorful satchels in their modular production system. It is a splendid scenery that a number of various colored satchels are arrayed on racks in the stall.It has been recently observed that some of adult foreigners are shouldering the satchel on their back while moving about in the city.
4. Soshin Mangekyo (Kaleidoscope)
Various styles of Kaleidoscopes are created and sold by a group of craftsmen.As for kaleidoscope, I remember that I had a mysterious experience to look at beautiful symmetrical patterns through a small hole on a cylinder in my childhood. The pattern in the scope changed as turning its cylindrical body. I considered it as a toy called a strange name or "Mangekyo".This time I was surprised to find out so many varieties of kaleidoscopes being exhibited in the stall. Those were produced by more than 20 craftsmen. Every kaleidoscope was decorated with shiny and beautiful decorative elements. They are explaining that the kaleidoscope is a kind of fine art to heal people's heart. They are also providing various objects such as pieces of colored glasses, beads,pebbles, fluid, plastic and etc.The kaleidoscope was invented by Scottish David Brewster in 1826.It was considered as a tool to stimulate people's imagination in Europe.
5. NOCRA(Woodcrafts)
There are wood workshops in Asahikawa city in Hokkaido. They are selling wooden handicrafts such as stationery goods, table wares, interior ornaments, door chimes, various cases. dial-plates of clocks, dolls, toys and etc. These crafts offer woody texture and warmth. Naming and monogramming can be engraved on the crafts by laser processing machine free of charge.
6. TABATA GLASS STUDIO
They are specialized in kiln glass work for plate, necklace, broache, earrings, cuff-studs,cellular phone strap, chopstick rest, lampshade, doll, cup, clock frame/body and etc. The glass handicrafts are manufactured through the processes of designing, engraving of the designed figure on a plaster mold base, tracing of the figure with the mixture liquid of colored-glass powder and water, covering of the figure with transparent glass grains,fusing and slumping them on the mold base in kiln oven (heat-treatment), cooling it down,trimming and polishing it. This is start to finish process for all crafts. The hues seen through transparent glass layer are so beautiful and stunning.One can join the hands-on lesson in their plant.
7.Glen Clyde Inc.(Socks)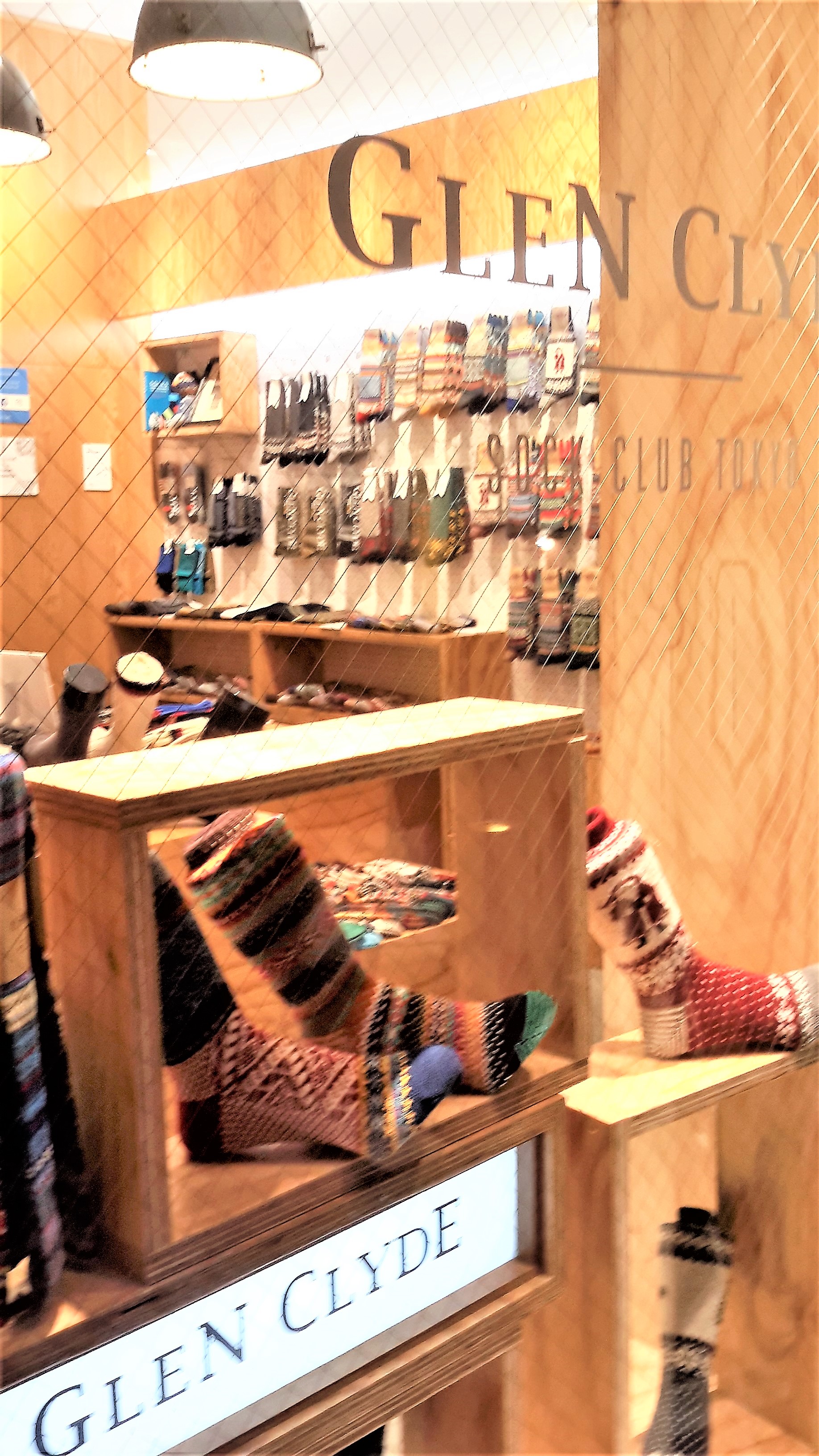 They produce numerous varieties of socks to wear on different occasions. The socks provide comfortable texture and excellent fittings thanks to the usage of the fabric being woven with the technique called hand linking. The socks called "Ankle length socks" was developed to sell as a foot wear for sneaker firstly by Glen Clyde Inc. The casual socks named "Chup" is full of colorful and intricate geometric patterns.Another sock called "Life-long" is made of cotton fabric with 40 percent of Cordura.It interestingly offers life-long free-replacement.
7. Tokyo Noble(Umbrellas and miscellaneous goods)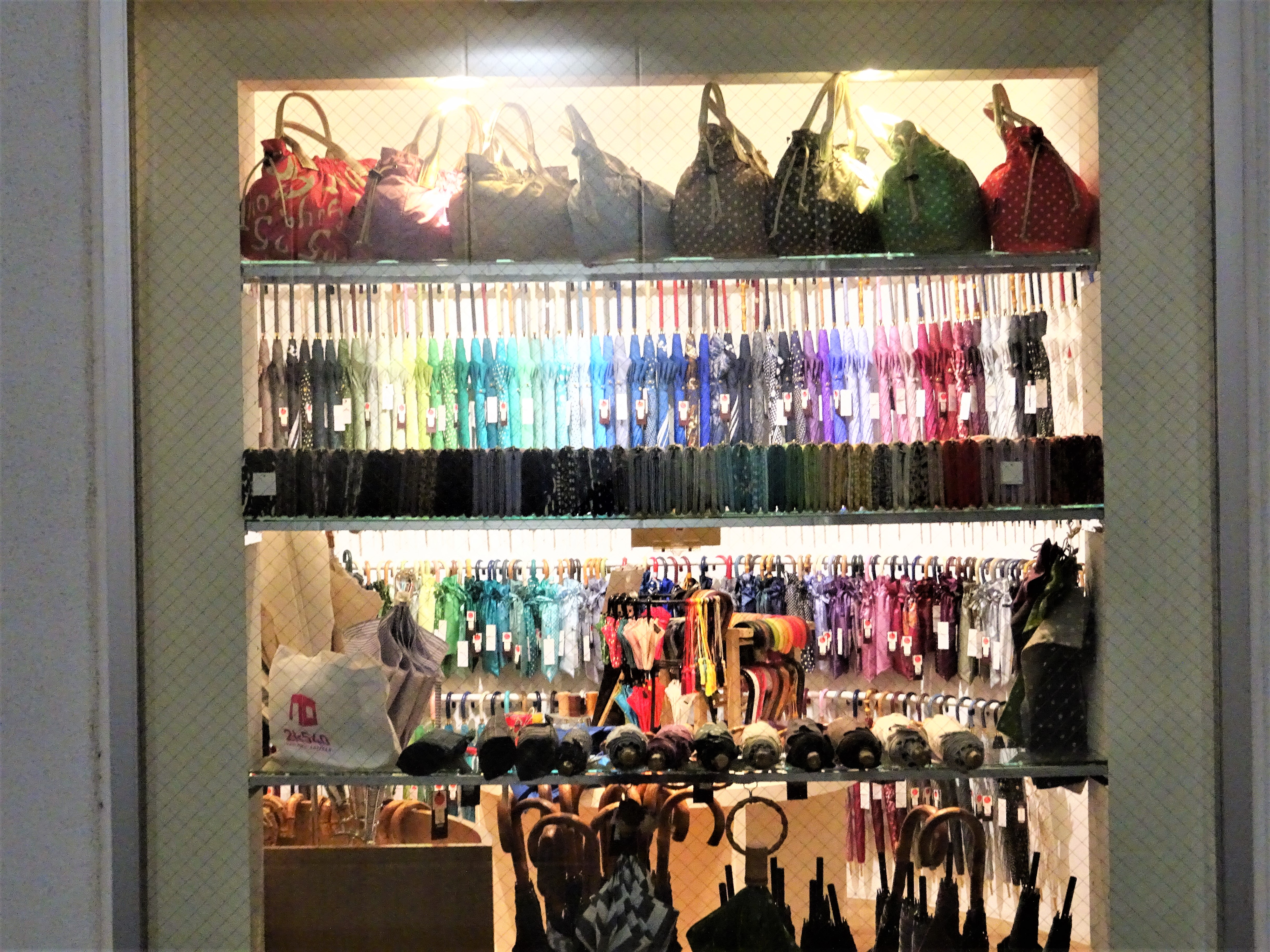 They are a supplier specialized in fashionable umbrellas of various hues.They named their make "Smart-Brella" distinguishing from others.There are 3 types of umbrella among their production range, long-ribbed type, short-ribbed and folding type.The clients are able to select their favorite combination among their modulations for size of shaft, color of canopy fabric and style of tassel. 77 gradations of color are surprising available.A green colored folding type called "Lettus-Brella" is uniquely equipped with crepe fabric (crinkled). Its folded figure looks like "Green Lettuce". It was developed by a designer with a playful mind. Numerous of tiny colorful umbrellas are exhibited at the entrance of the stall. They are named "Mini-Brella, having about 20cm canopy dia.They are special-made ornamental mascots.A town might be a riot of color on a rainy day by their umbrella with various hues,
8. MASAAKI TAKAHASHI (COSTUME JEWELRY)
Kumadori (Kabuki actors' makeup)
Mr. MASAAKI TAKAHASHI is a craftsman as well as designer of costume Jewelry. He crafts broach, pendant, tiara, earring, necklace, bracelet, charms and etc. by applying Swarovski crystals with a Japanese classical handwork called "Yosemono-Saiku". "Yosemono" means a technique required to install gemstones collectively onto metal frames by means of elaborate soldering operation.The operation starts up with designing a jewelry. Next an original frame pattern is formed based on the design.The pattern is printed on a clay-like mold base made of shell powder. And metal clasps to fold crystals are laid in the printed cavities on the mold. All of the clasps are soldered with silver flux together one by one. And then the soldered unit is cleaned with acid and crystals are installed on the unit. The jewelry unit soldered in this way can save the weight up to around 1/3 of casted unit. It is light and the best suited to costume jewelry.Thus the jewelry unit is elaborately finished by handwork through intricate processes. It is really a masterpiece which shines with iridescence.Among the variety of his handicrafts, one might be impressed with earrings, necklaces and pendants with the motifs of Japanese aesthetics which are titled with "Hanabi"(Fireworks), "Seseragi"(Sound of stream), "Kumadori"(Kabuki actors' makeup) and "The tale of Genji". The classical technique named "Yosemono" has been inherited by Mr. M. Takahashi from his father. His brand is increasing the presence in domestic market as well as overseas.
9. Dyeing Factory Nijiyura()Hand towels, sundries and cotton goods
They are a manufacturer as well as a seller of hand towel being dyed with Japanese traditional dyeing method named "Chu-Sen". The hand towel is called "Tenugui" in Japanese and it is a rectangular-shaped cotton fabric having the usual size of 90 (L) x 35cm(W). The Chu-Sen" is a kind of dye blocking method by applying glue onto the fabric.The "Chu" stands for pouring and "Sen" means dyeing.A roll of the white cotton fabric is neatly folded at the span of 90cm in length and the folded fabric with multi-layers is set on a dyeing table.A hand carved pattern made of Japanese classical paper is placed on the top surface of the layered fabric. Glue is applied over the pattern.The glue penetrates the fabric through the windows being carved on the pattern.Subsequently the areas not to be dyed is defined on the fabric by the glue. The first span of
the fabric is turn over after taking off the pattern and the next folded span comes front and again the pattern is replaced on the second span of fabric. And then the glue is applied through the pattern onto the fabric. The same operation is repeated over the one roll of the fabric.After the completion of the process, dyeing operation starts.Areas to be dyed on the fabric are surrounded by embankments of glue and others are left as undyed areas. Color stuff is poured by hand into the areas to be dyed on the top surface of folded fabric with the multi-layers.The glue penetrates through the layers of fabric. And a suction air pump facilitates the penetration of dyeing stuff through the bottom layer.This dyeing technique enable perfect dyeing with regard to the multi-layered fabric by one operation. It also ensures even finish of dyeing on front and back sides of a fabric so that the color of pattern can keep the original brightness with less-fade-out for a long time.
And the technique of "Chu-Sen" uniquely present a tasteful bleed and gradation of color on the fabric.
10. TOUMEI(Plastic goods)
"TOUMEI" is a retail stall of resin processing manufacturer named Masuki Co., Ltd. They sell acrylic miscellaneous goods such as card cases, coasters, trays, flora and fauna built in acrylic block, Bonsai ornament, toys, cutlery rest, shade of light, show case and etc.in the stall. These items were designed and crafted by young designers and craftsmen in Masuki Co. Ltd. They are trying to develop new acrylic handicraft. They are expecting to collect some of tips on their craftwork through the dialog with clients in the stall.
Acrylic plastic has its unique properties with excellent optical clarity, weatherability, impact resistance and etc. Its application has been diversified in various industries. It is utilized for optical lenses, canopy window of jetfighter and fish tank & tunnel in aquariums.It is expected that young designers and craftsmen will be able to launch their new brand into the market at the earliest time.
It is worth visiting "2k540-AKI-OKA ARTISAN" shopping arcade for foreign visitors to find out something new and interest during their stay in Tokyo.
Address:
5-9-23 Ueno, Taitoh-Ward, Tokyo
Tel.:
03-6806-0254
FAX:
03-6806-0250
Operation Hour
11:00 to 19:00
Holiday:
Wednesday