Ritual Ceremony called "Ukera-No-Shinji" in Shintoism
We call the third day of February "Setsubun" which literally means "division of seasons" according to Japanese old lunisolar calendar. It is the last day of winter and also the day before the beginning of spring. Various religious rituals and festivals have yearly been conducted to celebrate the coming of spring from ancient time in Japan.We perform the parched soya bean-throwing named "Mame-Maki" in Japanese and decorate the front gate with a grilled sardine's head being hung on the sprig of holly tree called "Hiiragi-Iwashi" in order to drive out evil spirits on the day of Setsubun. European folk stories tell us about a similar custom to hang garlics outside windows or doors to ward off Dracula.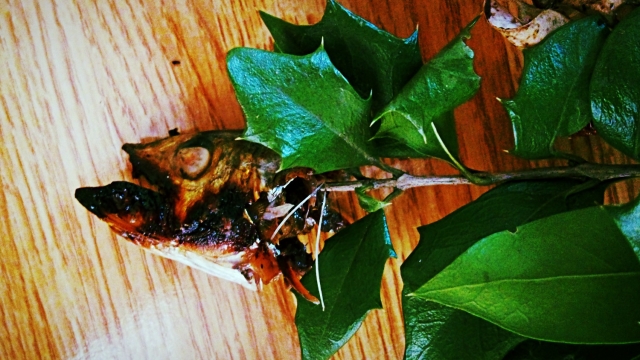 Sardine's Head & Holy Tree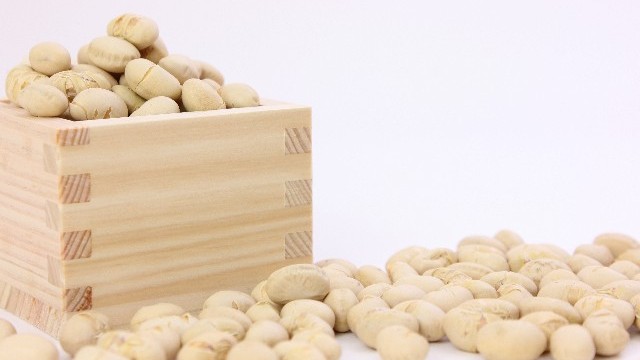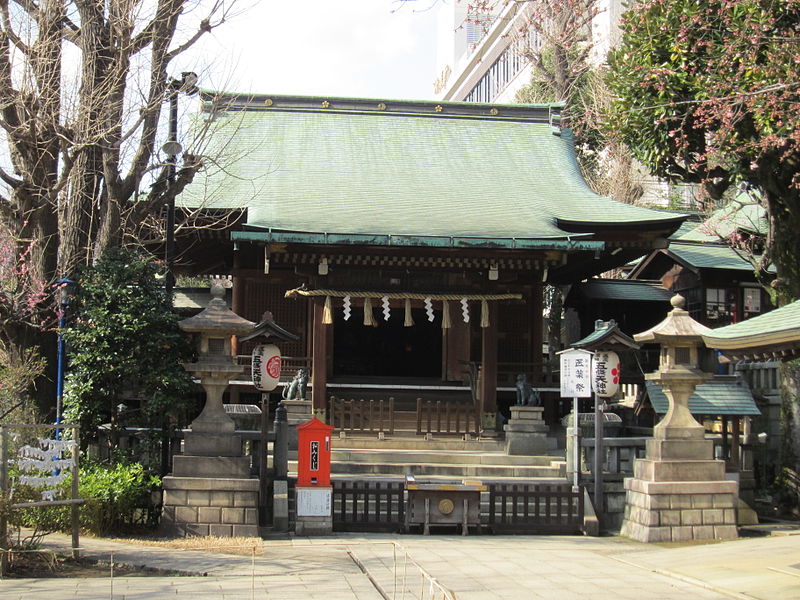 Gojyo Tenjin Shrine
There is the oldest shrine with around 1,907 years of history at the foot of Ueno Hill facing Shinobazu Pond. It is called Gojyo-Tenjin Shrine where two gods of medicine, Oonamujino-Mikoto and Sukunahikonano-Mikoto are being worshipped. They are known as the founders of the nation in the Japanese mythical world.
Sukunahikona-No-Mikoto & Oonamuji-No-Mikoto
The Gojyo Shrine have been conducting a traditional ritual practice called "Ukera-No-Shinji"(Tsuina in other name) in Shintoism to ward off evil spirits on February 3rd (at the turn of seasons) every year. Other shrines also carry out ceremonies of bean-throwing to celebrate the coming of spring which is inviting notabilities in the show business and in the sporting world on the day. However, "Ukera-No-Shinji" arranged by Gojyo Shrine is very much different from other shrines' ceremonies. It is held Gracefully modeled after the original style of ritual called "Tsuina" which had been conducted in the imperial court with the emperor's attendance at the change of the seasons during the eighth centuries. "Ukera" means wild herb on which white flowers bloom in September or October. It is also called "Okera" or "Soujyutsu". The dried "Ukera" is burnt to absorb moisture and to remove stench in a room. And also it is used to purge evil spirits in Shinto ritual.The smoke of burnt "Ukera wafts in the prayer's hall of Gojyo Shrine during the ritual.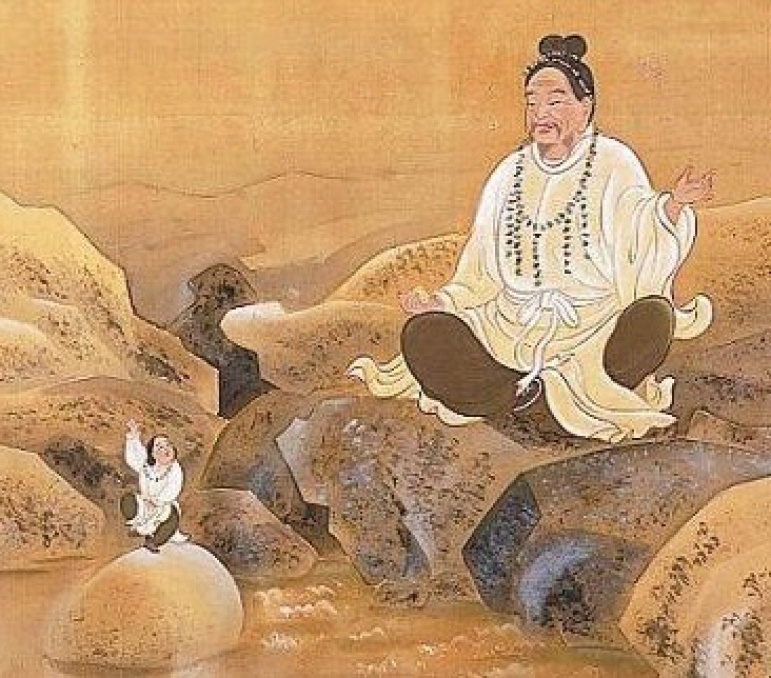 At first the "Ukera" ritual begins by the appearance of guardian deity with 4 gold colored eyes named "Hozoushi" who plays a role to drive out demons.He proceeds step by step in dignified gait to the beat of drum on the stage being set up in front of the prayer's hall. He is dressed in black gown and red divided skirt, and is putting a white pelt of a bear on his head. He is holding a bow made of peach tree in the right hand and arrows made of reed in left hand. Legend says that the peach tree was effective to exorcise evil spirits in ancient times. He strings a bow to purify evil spirits in 4 directions of east, west, north and south. He bows toward the prayer's hall and then sit on a chair at the corner of the stage.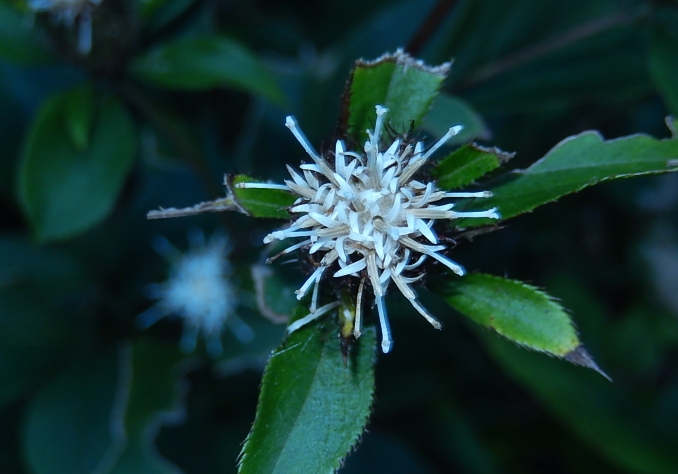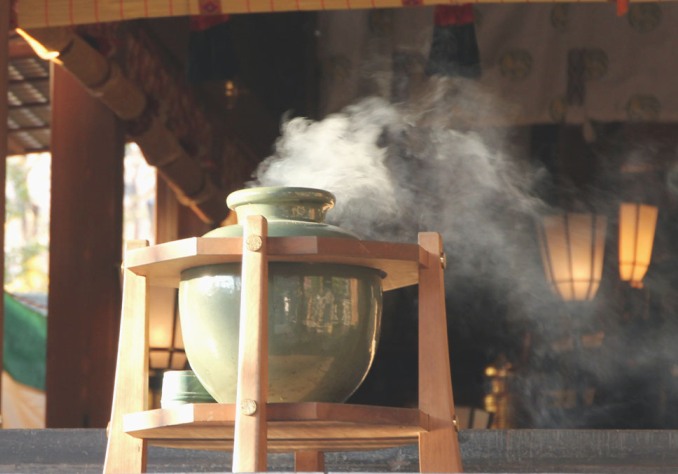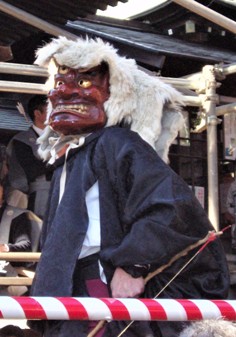 An officiating priest draws a holy bow and arrow gifted by god to the fullest and points those outward for purification at the entrance of the prayer's hall in the presence of large audience. At the same time, Priest and believers recite "Beware this is sacred bow and arrows".He does not really release the arrow to ensure safety of the audience.Formally it should have been released.These actions are called "Hikime-Ritual" or "Hikime-Kabura". Hikime means a whistling arrow which makes a sound to reverberate when being shot.The arrow head forms a turnip-shaped one with a hollow and with several eyelets which enables whistling sound. And "Kabura" means a turnip.And he slaps a bundle of arrows onto the floor while chanting a charm "Bunch of devils hidden here! Get the hell out of here! At the same time, herb called "Ukera" is burnt in ceramic burner to purify the surroundings with its incense smoke.
In the meanwhile a red-horned devil and a blue-horned devil raid with
a wand having white hemps and yellow paper streamers through Torii gate into the shrine ground while groaning and hollering. The devils climb up the stage and then they threaten "Hozoshi" by stomping violently on the stage and by snarling. When they try to enter Heiden, prayer's hall,Hozoshi stands in front of them and bars the entry with his arms outstretched. He forces them back. Although they fight back again and challenge him, they are shot with arrows by "Hozoshi". They draw back and sit with one knee up on the stage. They totally calm down.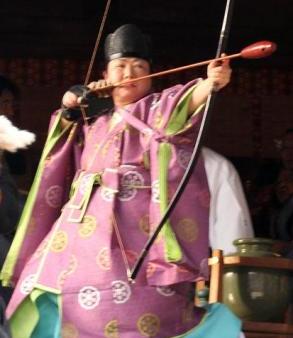 A vice-priest come out wearing pure white robe and divided skirt with black headgear. He stands in front of devils. He chants divine message and start dialogue with them.The priest asks devils " Why do you come out to invade the sacred place and to disturb holy ceremony "Ukera-No-Shinji?" You look unearthly, fierce and weird.Declare who you are?
Red Devil:
Take a step forward and threaten to yell out his name and purpose to come out.We are the Beings from the world of the dead name "Yomi-No-Kuni".Exhaling red breath on people, they are affected by a disease for seven straight days. Exhaling blue breath, they are attacked with an epidemic. We come out to kill them at every occasion of "Setsubun".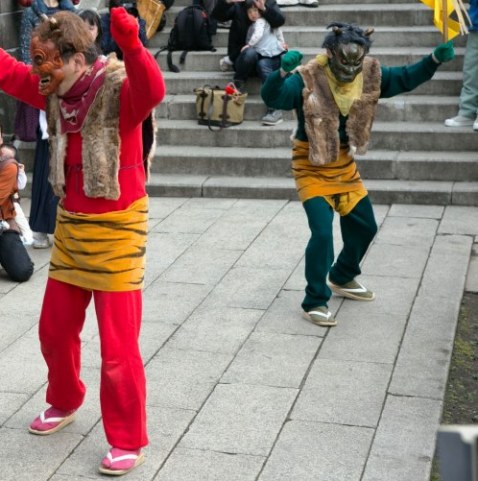 Blue Devil:
Take a step forward and continue threatening.I am also from same world to bring misfortune on people.On every occasion of "Setsubun", I come out to seduce women with honeyed dreams and to bring unexpected disaster and calamity on people.
A vice-priest:
What a silly thing are you mentioning!I would like to admonish you with referring to the ancient divine messages.In ancient time, deity named "Izanagi" who founded the Japanese islands on an oracle of his ancestors, tried to bring back his late wife called "Izanami" from the world of the dead(Yomi-No-Kuni). However his proposal was rejected and he was forced to get back. 8 devils ran after him with terrible look. When he got to the slope called "Yomotsu-Hirasaka", he found out a peach tree bearing plenty of fruits. He sent them back by throwing peach fruits at them.He dwelled in the peach tree after his return to this world.He told his daughter, Sun-Goddess named "Amaterasu Oominokami" to save people from devils by using peach tree as a charm.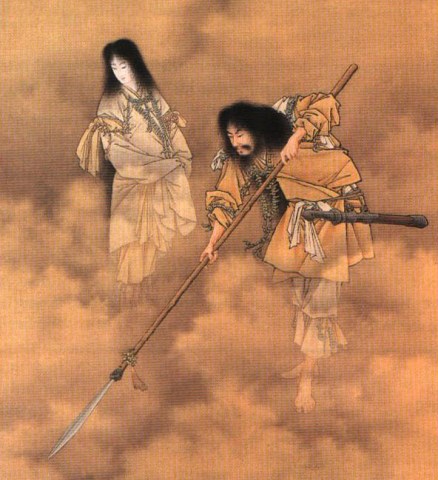 In addition, this Gojyo Shrine worship Oonamuji-No-Mikoto who had been warded off a lot of fierce devils by using sword, bow and arrows and thereby pacify this country.So this is not the place where you can live. If you disturb the country,we are ready to expel you from this holy place according to divine teaching.I order you to immediately get your home because we give you a prey.An officiating priest come out to give beans them.Hozoshi raises a holy bow and arrows in his hands and shout "Devil Out".The priest throw beans at devils while reciting "Devil Out". All of believers rush to the stage from prayer's Hall. They are the person who was born in the same Chinese zodiac sign as the current year. They join in throwing beans at devils chanting "Devil out".2 devils say, "Forgive" and escape, lowering their heads to the obligatory level for penance.
The "Ukera" ritual is well representing Japanese Nuo-ritual practice in dramatic manner like Japanese traditional Kabuki play so that people even foreigners can visually understand the scenario of the story. It tells us a lot about Japanese ancient folk religion through special features such as priests, guardian deity and red/blue devils. The religious narration called "Saimon" chanted in the ritual, refers to gods related with the creation of Japan and imaginary evils. It invites us into a mythological world.It really worth viewing this traditional ceremony at Gojyo-Tenjin Shrine on February 3rd, 2017.
Most of photographs presented by M/S. Gojyo-Tenjin-Shrine.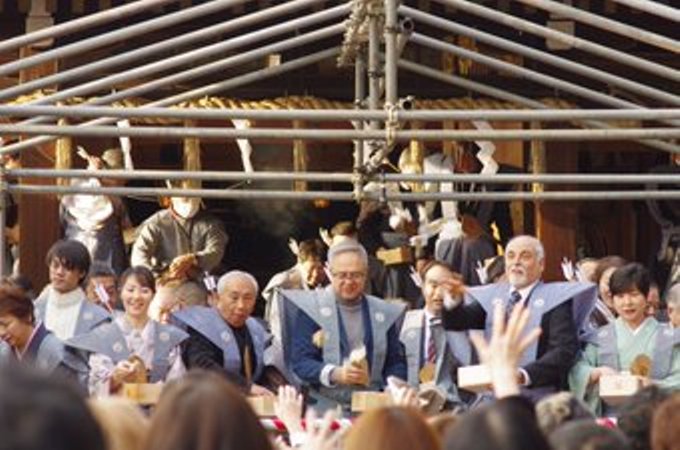 Gojyo Tenjin Shrine
1. Address: 4-17, Ueno Park, Taitoh-ku, Tokyo.
2. Tel: 03-3821-4306
3. Ceremony: "Ukera-No-Shinji"
4. Time & Date From 15:00- on February 3rd, 2017
5. Access 10 minutes' walk from Ueno Station of JR-Line or Ueno Station of Keisei-Kine or Ueno Station of Ginza-Line.