Depachika- Food Galore on the Basement Floor
If you are looking for a one-stop shop to buy a vast range of seriously good foods in Japan, look no further than the food hall of a department store. Typically the food hall is located on the basement floor hence it is called 'depachika', the combination of Japanese terms for department store ('depaato') and basement ('chika'). This is because traditional commercial buildings in Japan have had all the necessary utilities for preparing foods such as gas, electricity and water supply concentrated on the basement floors. There is also an argument that water leaks and the smells would be less problematic if it is all confined to the lower floor. Studies in psychology indicate that stores attracting customers to their lower floors could expect higher chance of their mobility to upper floors. Such behavioral patterns are crucial for commercial industry under the current downturn. Many department stores in Japan are no exception for taking this very seriously. This is why many high-storied department stores have been going through renovation after renovation of their depachika, trying to rotate and introducing new, popular food retailers from time to time.
Once you step into a depachika, you would be mesmerized, if not overwhelmed, by arrays of beautiful food displays. Almost any cuisine you could possibly think of is on offer– from Japanese, Chinese and other Asian food, to Western-inspired such as French and Italian. You can buy a skewer of yakitori, a box of stir fried rice with few pieces of dumplings, some fresh salad by weight, and to top it off, a piece of cake as a dessert. Offering freshly prepared foods in small portions and allowing consumers to mix and match their favorites have helped flourish a new type of culinary pattern called 'nakashoku'. Nakashoku is positioned in between 'gaishoku' (eating out) and 'naishoku' (eating in). Under the long, ongoing acute economic austerity the nation has been facing, nakashoku has become an ideal for the Japanese who don't want to cook at home from scratch yet would refrain from splashing the cash at restaurants.
Major train stations have department stores or some kind of large-scale commercial buildings nearby. With many of these shopping sites connected to the station through an underpass, depachika provides passengers and commuters an easy access to foods to go. Food halls adjacent to terminal stations of Shinkansen and other fast trains are constantly packed with travelers and businessmen. They would buy neatly packed bento boxes to eat while on board and elegantly packaged confectionary as souvenirs to hand to friends, family members, or to business clients at the destination. Needless to say it's best to arrive at the depachika with plenty of time to stroll around and to immerse yourself in the labyrinth of foodie wonderland. Just don't get carried away or you might miss your train!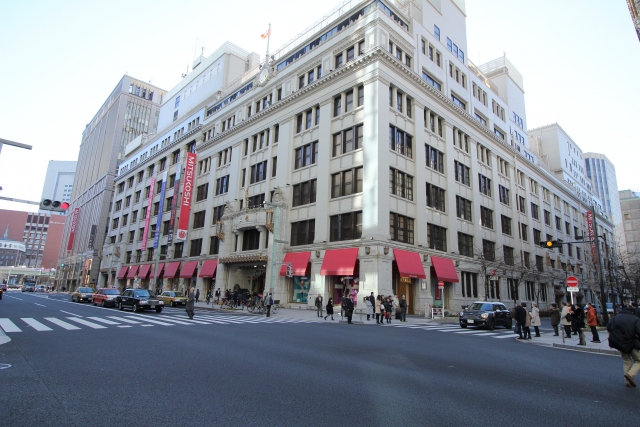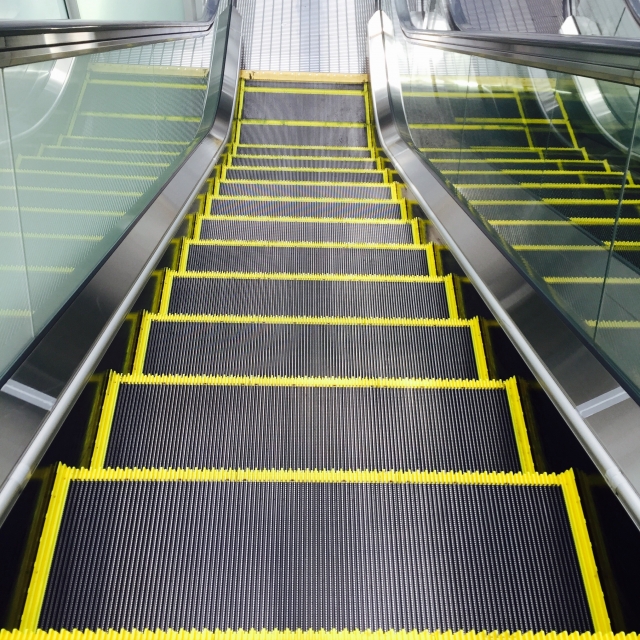 Another appealing fact of depachika is that most food stalls would encourage you to sample their foods before you purchase. This is a nice touch to the hospitality Japanese are already renowned for because if you are new to this country there may be foods you would encounter for the first time. It is common to see Japanese-style croquettes or other deep-fried delicacies in bite-size pieces with a toothpick stuck on top of each slice. Stalls selling furikake (rice seasoning) would serve a tiny rice ball sprinkled with their products. And if you proceed to the fresh food section, you'd be flooded with slices of seasonal fruits, grilled meat, ham and sausages, or even sashimi. Some people jokingly boast that they would go to depachika when they feel hungry, eating their way to fill their appetite and finishing off with a sample of cake as a dessert together with a small cup of free coffee. Members of staff would not hold a grudge against you even if you don't buy at their shops, so don't be shy and try as many food samples as you wish to your heart's content.
In addition to easy access from stations, the fact that department stores are open till late contributes to attracting commuters who would be doing their last-minute shopping at depachika. The last few opening hours are so-called 'service time` as lots of freshly prepared foods are sold at reduced price. Many customers jump to these limited bargain offers and depachika can get busier than during the day. It works both ways as the depachika staff are desperate to sell pre-cooked foods and bento boxes that need to be consumed on the day, whereas commuters would be too hungry and tired to cook at home. So whatever your intentions are, depachika is the must go, see, and experience place in today's Japan if you are a seriously self-proclaimed foodie.