Ueno Seiyouken
The white three-story building is standing at the west end of Ueno Hill which overlooks the Shinobazu-Pond. It is located in between a Belfry and Toshougu-Shrine at the Ueno Park. The wide span of the building looks as if spreading its wings on the cliff of the hill.It is called Ueno-Seiyouken which is the oldest western style restaurant still existing in Japan.It is a long-established restaurant having a history of approximately 144 years.The name of Seiyouken is referred to as the restaurant with high social standing in true sense when talked about the western style cuisine before the World War II in Japan.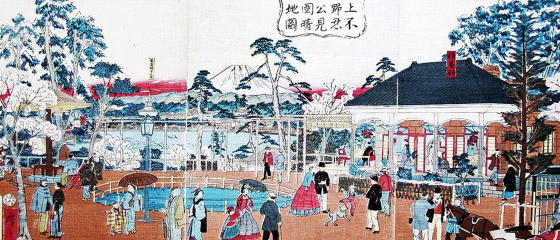 Seiyouken was established under the auspices of prince Tomomi Iwakura by his close associate Sigetake Kitamura as a hotel with French restaurant to entertain foreign guests from Europe and America in Tsukiji area in 1872.As part of modernization in Meiji Restoration the government approved French cuisine with an assured standard of formal dinner as it was originated in a palace cuisine in Europe and also promoted the westernization of Japanese food life.
Swiss gentleman Mr.C.J.Hess (known as "Charlie-Hess") was the first chef de cuisine of Seiyouken in Tsukiji. Later on he firstly opened a bakery named the House of Charlie in Tsukiji which specialized in baking French bread or baguette and raised many admirers there. He is known a founding father of French bread in Japan.When Seiyouken opened their branch in Ueno Park in 1876, French gentleman Mr.L.Muraour living in the foreign settlement in Yokohama, supervised their cooking and trained many Japanese cooks in the Seiyouken Ueno branch. He managed Oriental Hotel in Yokohama later on. Those cooks greatly contributed to the spread of western cuisine in Tokyo.In this way, Seiyouken brought up and turned out many talented cooks in the field of restaurants known for western cuisine. They became chief chef in Imperial Palace, Tokyo Kaikan Co.,Ltd. , Peers' Club and other famous restaurants. Some of them learnt the newest gastronomy of French cuisine from a prominent chef, Mr.Georges Auguste Escoffier in Hotel Ritz in Paris and went back to Japan.Seiyouken was not only a sophisticated western style restaurant for upper social classes but also an appointed purveyor to the Royal Household. They were utilized for a wedding ceremony, business and political banquets and social meeting place by the nobility, leaders in political and business fields, and prominent writers such as Ogai Mori, Ryuunosuke Akutagawa, Souseki Natsume and so on.Japanese army and navy were established modeled after France, England and Germany as part of modernization aimed by Meiji government. Military officers were instructed to learn about western table manners. It is said that army and navy were checking officers' proficiency level as one of criterion how much time they had taken to finish meals in Seiyouken.Many skillful cooks were headhunted from Seiyouken when the Imperial hotel opened as the biggest and highest class hotel in Japan.in 1890.
When the national railway named Tokaido-Line was started with a dinning coach, the management of the dinning were entrusted to Seiyouken.In 1901 Tokyo Station was founded and next year the Tokyo Station Hotel started the operation.The president of Tsukiji Seiyouken who was promoted from chief cook to general manager of the new hotel.The café boom was broken out in 1911. Many fashionable café shops came out mainly in Ginza area. Tsukiji Seiyouken also opened Café Lion there. The shop mainly served western style dishes and wines as well as coffee. It was a big scale café shop easy for general public to enter and attended by beautiful waitresses. It became the talk of Tokyo City.In fact Seiyouken was one of the restaurants which was giving wide and significant implications on Japanese western style cuisine business at that time.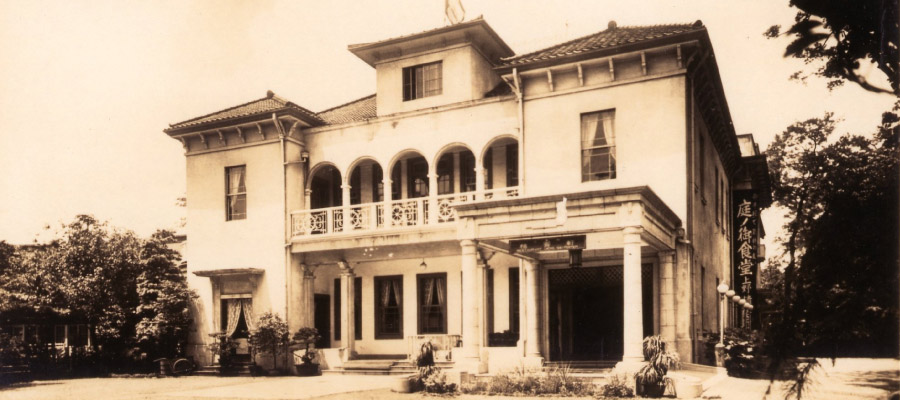 In 1923, there happened a catastrophic natural disaster in Tokyo which changed the tread of development of Japanese western cuisine. It was the Great Kanto Earthquake that devastated Tokyo city and its surrounding areas (Kanto area).The Tsukiji Sreiyouken was completely collapsed and never rebuilt. They shifted the principal restaurant to their Ueno branch. Since then Ueno Seiyouken has been operated as their head quarter.The massive earthquake caused economic turmoil in national capital area. And subsequently Japanese economy was also affected by the worldwide depression being occurred in 1929. The market fell into long-term recession.Under the circumstances, it was getting harder for most of people to get daily meals and cooking places. This increased the demand for outside eating place and thereby many inexpensive eating houses emerged one after another. Thus the western style food which had been once regarded as classy cuisine, popularized with markdown among the general public.
In the meanwhile a noteworthy change took place in the field of classy western style restaurant by Swiss gentleman Mr. Saly Weil who was the first chef de cuisine of the Yokohama New Grand Hotel. The conventional style of serving meal adopted by Hotel and Restaurant in Japan, was performed in accordance with French style, taking food from platter or the full course meals serving food-assorted dishes. He promoted to serve " A La Carte" menu instead of the conventional dish-serving to his customers.Customers were able to order their favorite cuisine on a single plate and enjoy it in casual wear in relaxing and comfortable atmosphere. Thus "A La Carte"became increasingly popular among people.Japan was defeated in World War II, and the Japanese society was democratized under U.S. forces occupation and thereby accomplishes a big change in various fields.From 1945 to about 1950, it was time of the collapse of Japanese economy and of the shortage of food stuff.The Japanese economy revived by special procurement demand of the Korean War in 1950. As people's life recovered at the same level as normal, there happened drastic and substantial transformation in the field of western style cuisine. The style of cuisine trended toward Americanization and diversification. Especially American cuisine attracted the public mind since it was easy for them to take it in casual way. Japanese western style cuisine accelerated and popularized the rise of food service industry such as fast food chain, family restaurant, casual dining restaurant, bistro, road side restaurant (drive in) accompanied by motorization and etc. As for the field of classy restaurant, MAXiM's DE PARiS from France opened their branch restaurant in Ginza in 1966. This movement encouraged Japanese 5 star class hotels and exclusive restaurants to offer the cuisine with supreme quality far better than before. In 1970 the newest concept of cooking called " Nouvelle Cuisine" was introduced into Japan from France. The French introduced the use of sauce from "fond de veau" instead of Demi-glace sauce. In contrast to classical cooking way, the Nouvelle Cuisine is characterized by lighter, more delicate dishes and an increased emphasis on presentation of dishes.The cuisine was made with the freshest possible ingredients. This style was favorably accepted by Japanese people.It was said that the gastronomy introduced by Georges Auguste Escoffier was obsolete behind the time.And the French cuisine was also trending toward the fusion with multinational cuisines such as Japanese, Italian and etc. In the significant change of society, Seiyouken has managed to continue with traditional gastronomy of French cuisine for about 144 years while coping with the diversification of food culture. There is a galley named "Grill Fukushima" on the right side of Seiyouken building where we can taste traditional French cuisine in a formal course (Table D' hote) in classy atmosphere.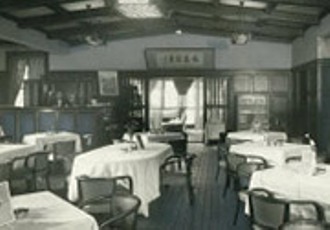 Grill room(early Showa era)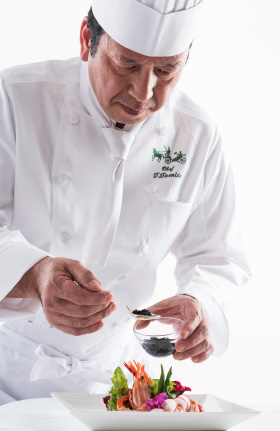 In the meanwhile there is another galley named "Caferant Le Landaulet"on the left side of the building where we can choose favorite dish out of "A La Carte"menu at reasonable price in a relaxed atmosphere. We can enjoy various westernised Japanese dishes which are originated in Meiji and Taisho periods, such as a fried cutlet (Beef,pork & chicken), a croquette, a fried prawn, a omurice (a plain omlette atop rice),a curryrice( curry and rice) which was passed by British navy to Japanese, Hayashi-rice( beef stroganoff and rice), Napolitan spaghetti(flavored with tomato ketchup) and etc. Seiyouken serve assort cuisines on a single plate. We have observed families with kids and youngsters in jeans often. Pancake being drawn with Panda might fascinate all the kids.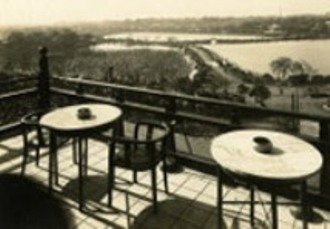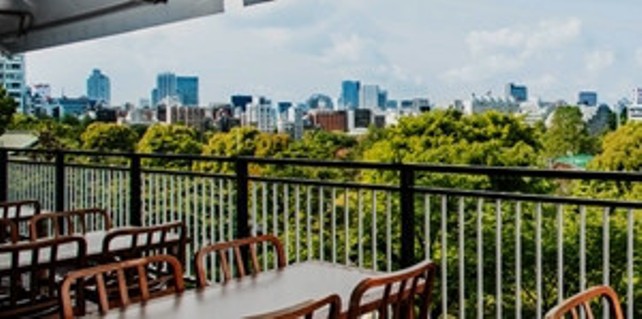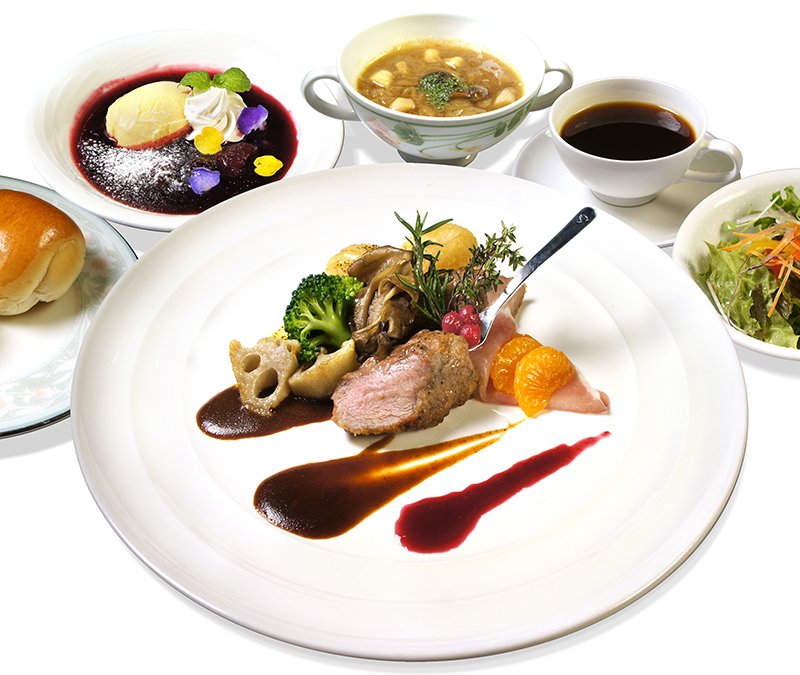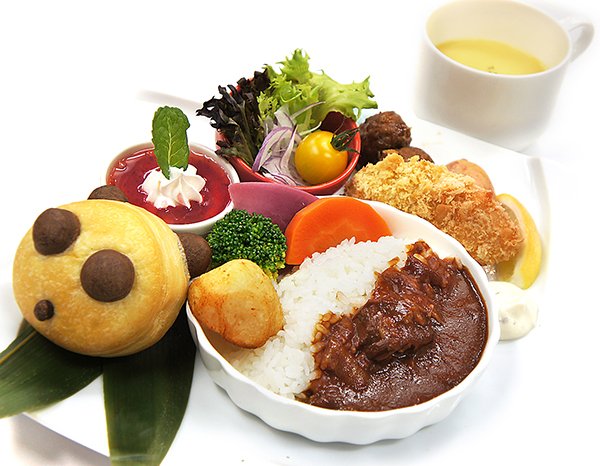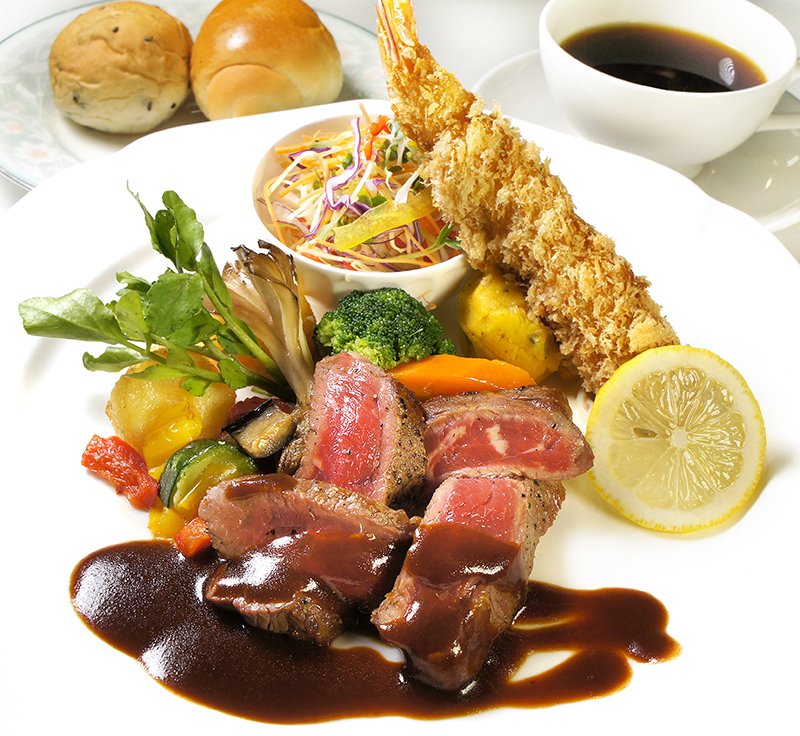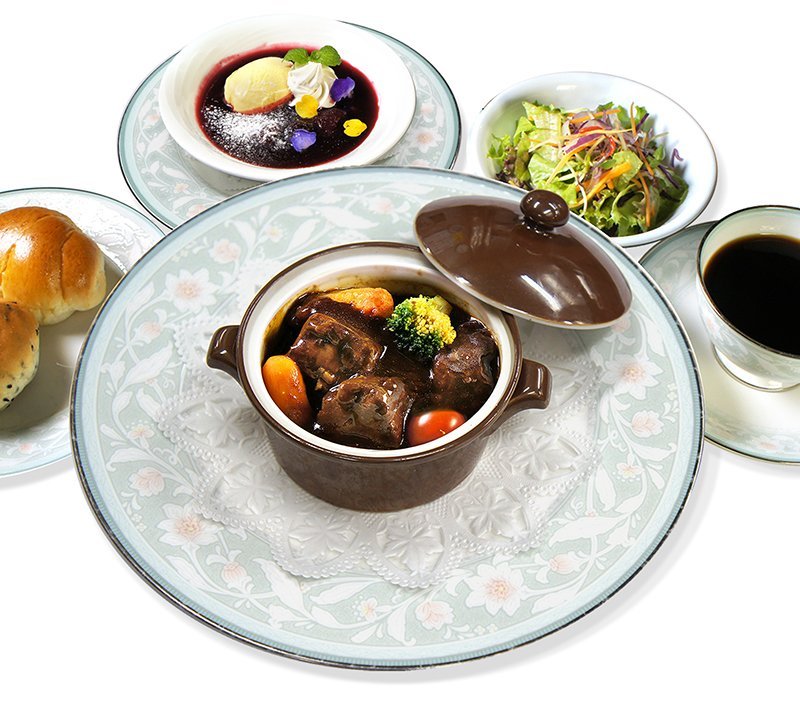 The second and third floors are utilized for wedding ceremony & party, banquet,business entertaining and etc.
We might catch a glimpse of a lively banquet where many visitors are talking pleasantly while smacking their lips over cuisines arranged on platters.

On the roof top of the building there is a Japanese beer garden where people can enjoy various sort of beers in nice breeze in Summer time. We can also enjoy the whole view of Shinobazu pond from most of areas of the building Seiyouken is always alive with people who visit the Tokyo Metropolitan Festival Hall,the National Museum of Western Art, the National museum of Nature and Science, the Tokyo National Museum, the Ueno Zoo and etc. in Ueno Park. A lot of foreigners are expected to visit Japan toward Olympic game in 2020. Some of them might have a restriction of food, we are hoping Seiyouken to slot suitable dishes for Vegan, Vegetarian and Muslim(HALAL) in their menu.
Ueno Seiyouken
1. Address: 〒110-8715 4-58, Ueno-Kouen, Taitoh-Ku, Tokyo
2. Tel.& Fax.: 03-3821-2181 03-3822-1330
3. Holiday: Dec. 29 to Jan 1st
4. Operartion:
    Grill Fukushima 11:00-21:00
    Caferant Le Landaulet 11:00-20:00
5. Access: 10 Min. walk from JR. Ueno Station or Keisei Ueno