Many people would agree that Tokyo is one of the safest cities in the world to be out and about past Cinderella's bedtime. Public transports may not be operating 24/7, but there is still so much to do before the last train departs. So what if you feel hungry after hanging out at clubs or belting out at karaoke? Would Spanish drinks and tapas interest you? If that sounds like an ideal way to round up your long day in the city, we know just the right place for you.
Within an easy reach from both Jimbocho and Ochanomizu stations, Spain bar Gracia is conveniently located just off the busy and bustling Hakusan Dori. Once you enter the cozy, inviting entrance, you will be amazed how spacious it is with a warm and bright ambience of wooden décor.
A friendly staff showed us a drink menu with an extensive selection of both alcohol and soft drinks for us to get started. Gracia boasts of being the only Spanish restaurant in town offering both Ambar Especial and Ambar Export, the famous Spanish ale served from beer barrels. A rare Spanish cocktail made of beer and soda called Clara is also on offer. If you like wine, Gracia offers a wide variety by the glass. There are always six types of red and white wines each available – the vast majority being Spanish with one or two brands from France. Japanese wines are also promoted at this restaurant but they are served by bottles. What's more, you are in for a treat if you like Sherry, a fortified white wine made from grapes grown in Jelez de la Frontera in Andalusia.
Soft drinks include many booze-inspired beverages such as non-alcoholic beer from the famous Spanish brewery Estrella Galicia, delicious glasses of both red and white non-alcoholic sangria, a virgin mojito and a yoghurt cocktail. They tasted so good I was exclaiming they were genuine alcoholic drinks!
Settling happily with our drinks, the two teetotalers looked at the food menu vigorously over an all-you-can-eat bread balls. These little bread balls were warm and delicious in their own right, but you may need to watch out not to scoff too much and save yourself for the actual meal. Though you can indulge them throughout the meal, breads are categorized as the appetizer, or in Japanese, otooshi (お通し). Yes, otooshi comes as a default at restaurants in Japan and yes, you need to pay for it. This is one of the few unique systems in the Japanese culinary scenes which could get people who are unfamiliar with into trouble. Consider it as an alternative of service charge or a tip that comes with treats – you'll be glad you didn't make complaints.
After much contemplation, we settled with the following dishes: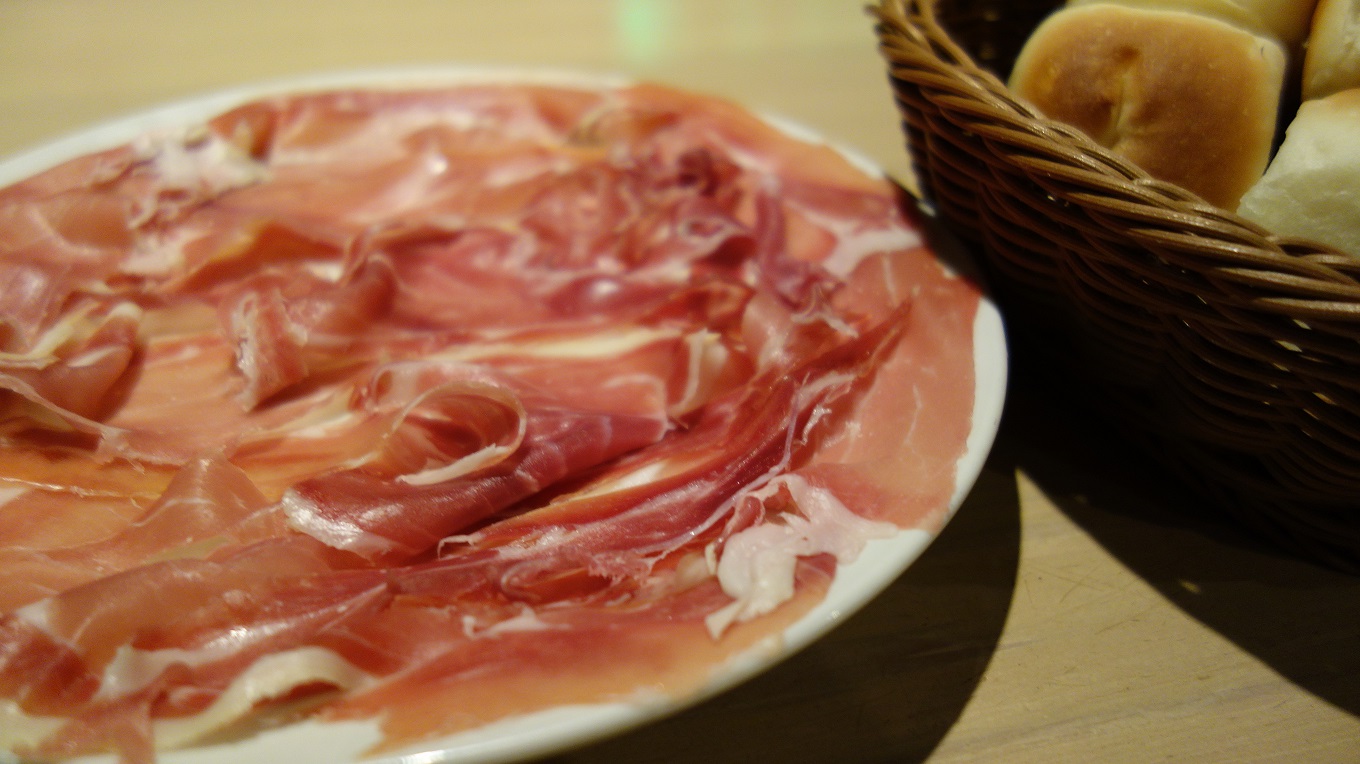 Jamón Serrano
First up was a dish full of thinly sliced cured Spanish ham. The ham was well balanced with its freshness, meatiness and saltiness. It complemented so well with the otooshi breads and our drinks that we found it difficult not to overindulge.
Lamb Chop
The photo image of grilled lamb on the menu was so picturesque we could almost smell its wonderful aroma. Just how many restaurants in Tokyo serve succulent lamb rack? And sure enough, this happens to be the most popular dish at the restaurant, according to Mr. Yokomizo. Here at Gracia you could order by a chop. The rub of the chops was a greatly balanced mixture of herbs and spices. They were grilled to perfection, retaining the tenderness as well as the pink color in the middle. You can sprinkle some flakes of rock salt to enhance the flavor but since the chops are beautifully seasoned, we would say it is optional. No cutleries are required to dive in- simply pick up the slice with your fingers.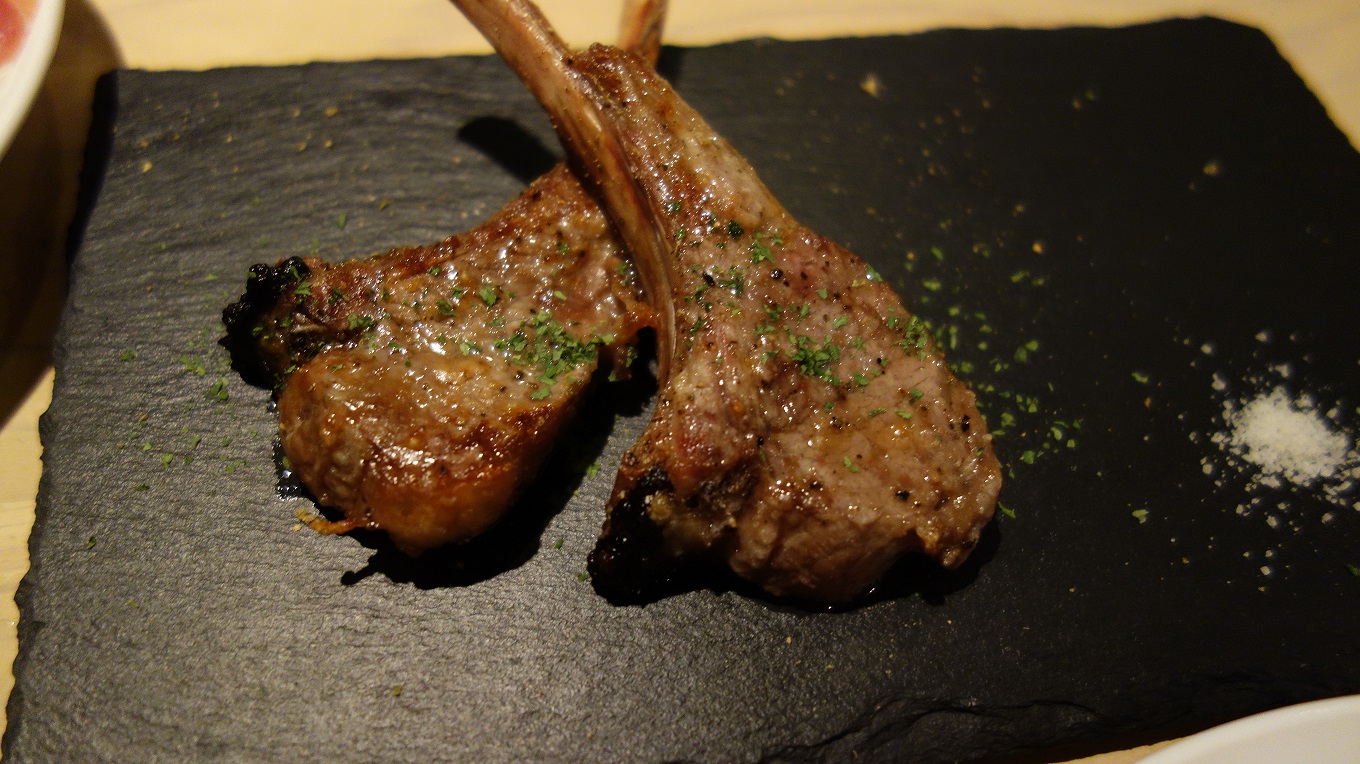 Shrimp Ajillo
Translating in English as 'cooked in garlic', this is a popular, classic Spanish dish. Prawns were cooked in the sea of garlic infused olive oil. Served in a hot and piping skillet, it was sizzling rhythmically when it was brought to the table. The prawns were well seasoned and not overcooked. Just like Jamón Serrano, it was a perfect match to the bottomless bread rolls.
Vegetables with Salsa Romesco
The Spanish version of Bagna Càuda, a typical dish from Piesmont in Italy, consisted of a variety of grilled vegetables with a warm dipping sauce just like fondue. The recipe of this delectable and not-too-oily sauce happens to be the best kept secret of the restaurant. Nonetheless, we were told that the key ingredient to the flavorsome sauce was ground nuts. The grilled vegetables of the day were broccoli florets, sliced eggplants, red and yellow peppers, and interestingly, avocadoes. I particularly enjoyed the creamy avocadoes which married extremely well with the smooth and velvety sauce.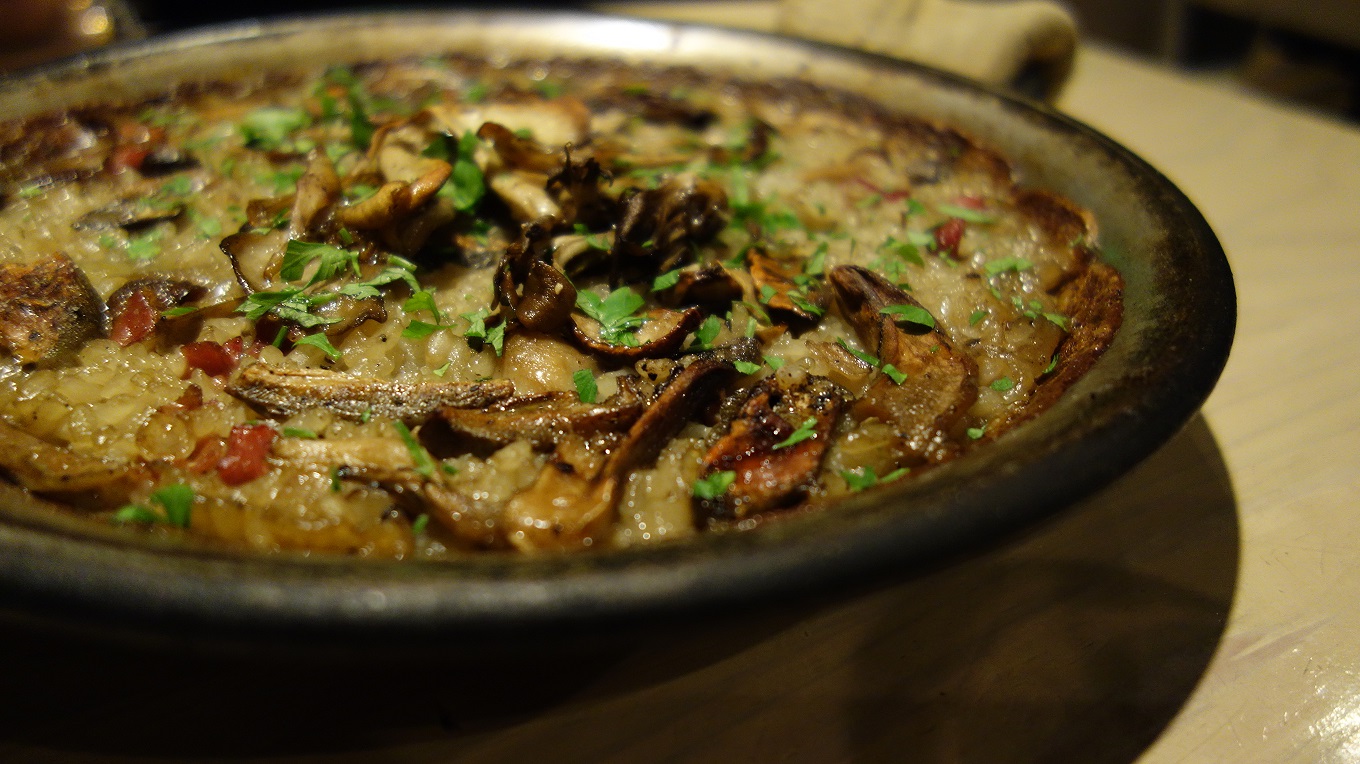 Mushroom Paella
Tapas dishes were filling us up gradually but when you're at a Spanish restaurant there's no way you would want to give paella a miss. A pan of typical seafood paella cooked with the broth of omar shrimp was appealing, but we opted for something different from the norm. The rice was cooked perfectly – not too mushy or coarse but al dente. The combination of earthy mushrooms and salty Spanish ham with a hint of truffle was sublime. The paella dish we gambled with did not disappoint us and we could not be happier with our selection. The only regret was that we had eaten too much beforehand and could not finish this tasty paella.
And despite boasting of our sweet tooth, it was unfortunate that neither of us were able to try the desserts. Even though the traditional Crema Catalana (that is the Spanish version of burnt custard, just like the French Crème Brulee) was inviting, we were too full at the end of the night. We promised ourselves to go easy on food next time so as to save some space for desserts.
As we were recovering from the serious food debauchery, we noticed the place was full of customers, and not a single empty table to be seen. And that was on a Monday night! There was even a group of customers that had eaten elsewhere but came to Gracia for glasses of wine. So whether you are looking for a decent Spanish meal or a mere nightcap, this is the place to be. Gracia is open till 2am. If you decide to head back to your accommodation after midnight, a member of staff will be happy to call for a carriage on behalf of you, or a taxi in the modern world.
Nice and friendly staff! (dressed in Halloween costume:-)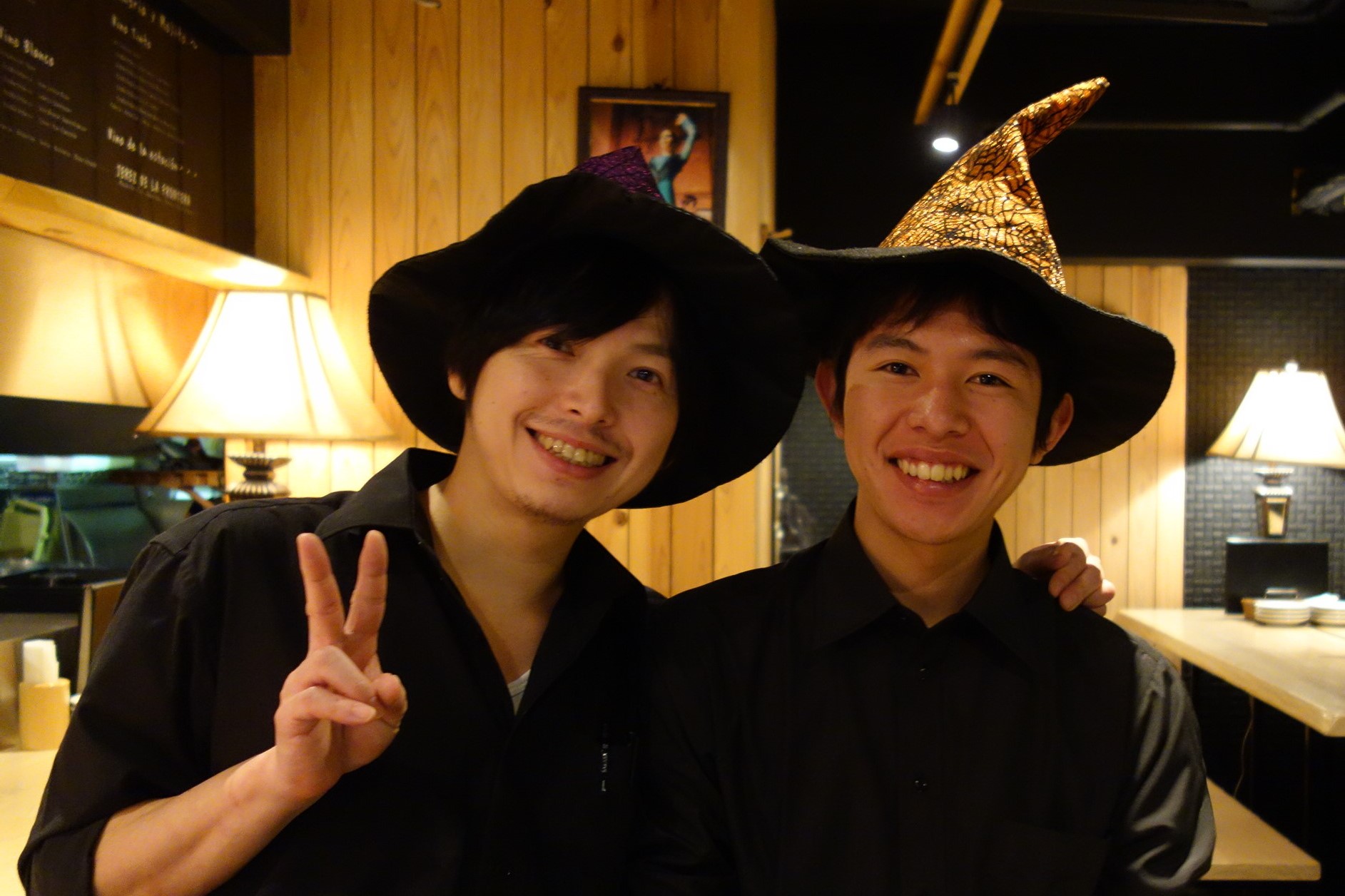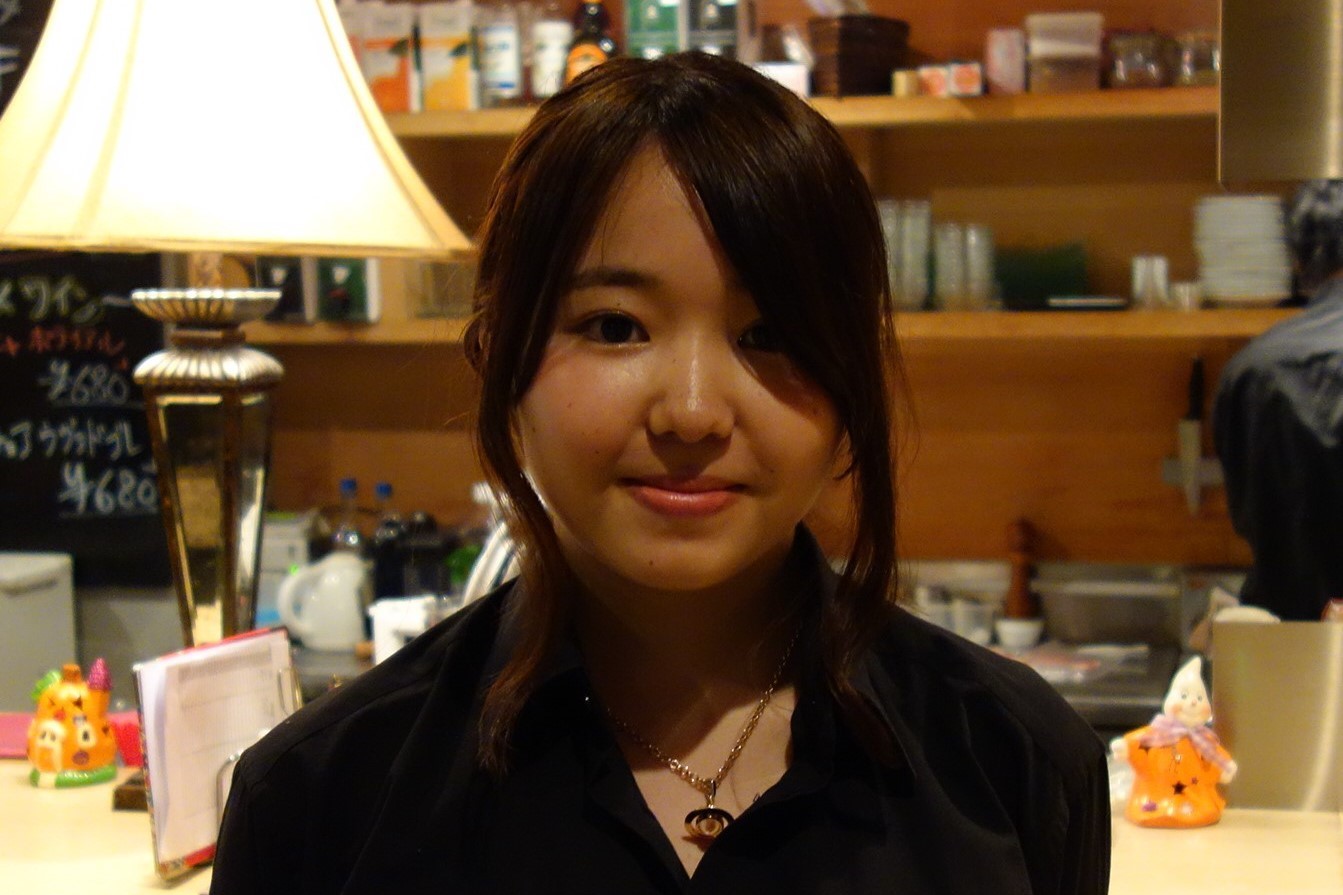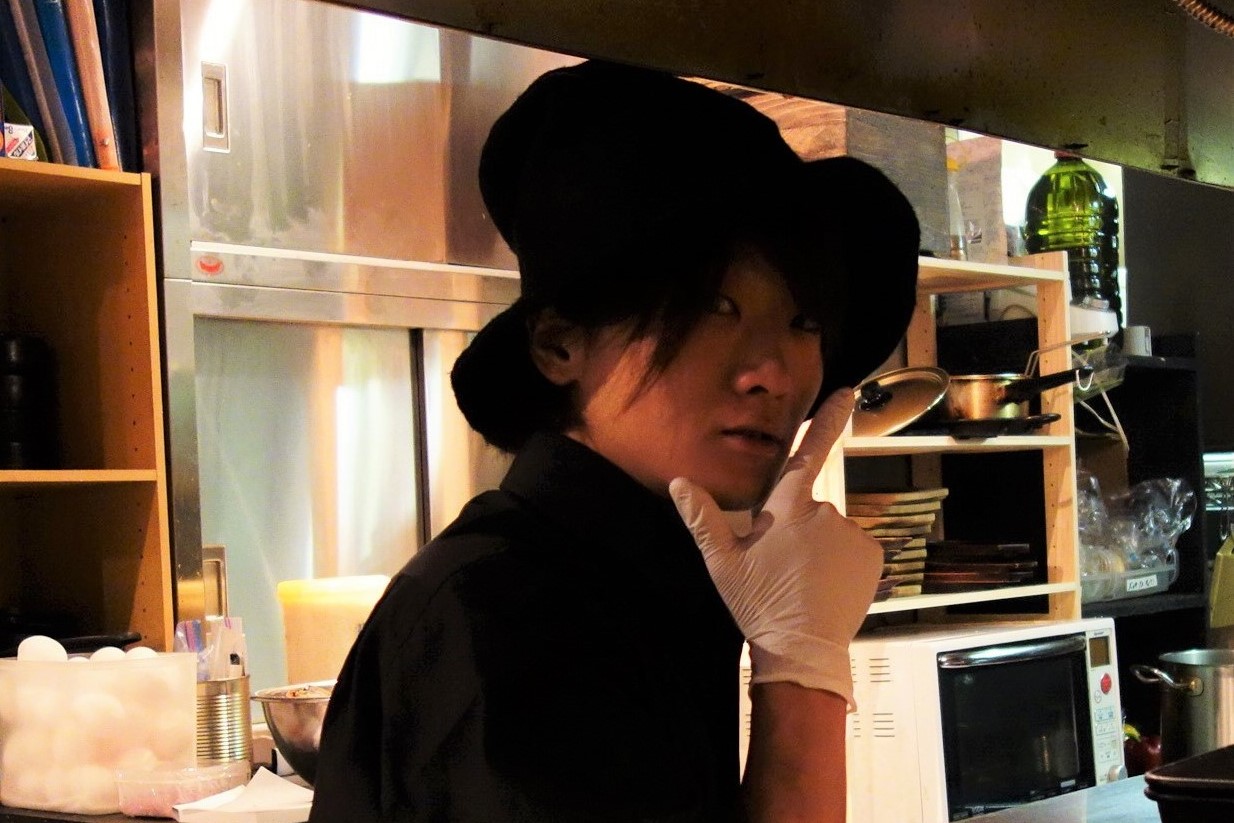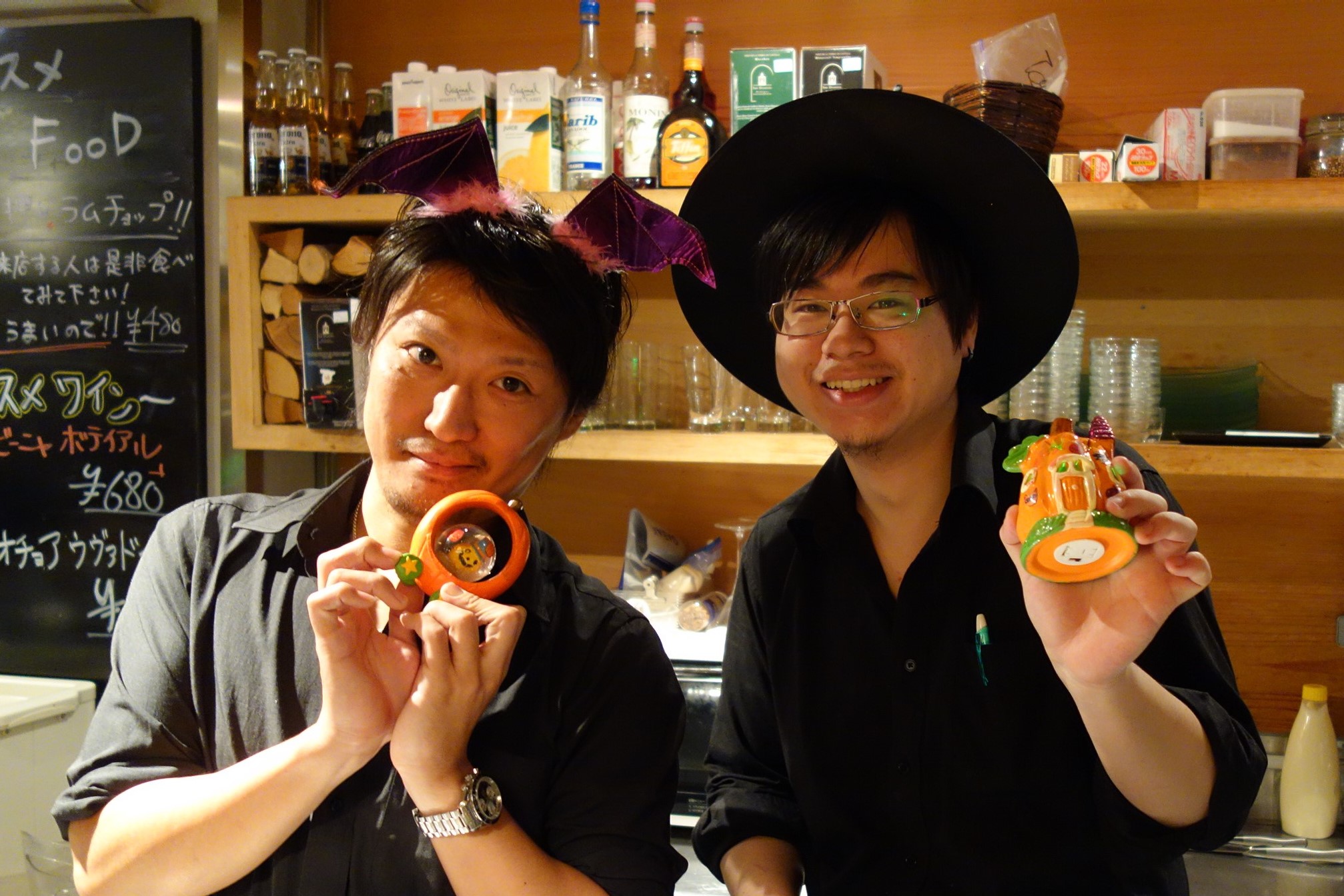 Spain Bar Gracia
3-14 Kanda Ogawamachi
Chiyoda-ku, Tokyo
Daiichi Mansui Bldg. 1F,
Hours:
Mon-Sat 18:00-2:00
Sun,Holiday 17:00-23:00
Website:
spainbar-gracia.com
Tel: 03-3518-9404