Fried Chicken a la Japonaise – that's the way we like it!
It is no exaggeration to say that fried chicken is one of the most popular dishes on this planet. There are variants throughout the globe with different cooking methods, using different chicken meat, different seasoning and flavor. In this article we will look into the established style of Japanese fried chicken, known as 'tori no karaage'.
Cooking Methods
Karaage is a technique of cooking that involves marinating the ingredients, followed by dusting with flour or starch, and deep frying in oil. The main ingredients may be either meat or fish, with the most popular being boneless chicken thigh fillets with skin on. Deep frying the ingredients was never a traditional, popular cooking method in Japan until the Edo era. In terms of the naming, the latter part 'age' (揚げ) means deep-fried, yet 'kara' has two theories and the Chinese characters differ depending on the theory you go with, although they are both equally common. One is 『唐』, deriving from the ancient Chinese imperial dynasty but there is no connection between the recipe and the Tang dynasty, other than the fact that the cooking method of frying ingredients was from the Continent and karaage is a popular menu at Chinese restaurants in Japan. Another form is 『空』, meaning, in this context, a dish of fried food without coating the ingredients with the likes of bread crumbs or batter.
Standard chicken karaage is cooked by marinating ingredients in grated garlic and ginger with a splash of sake, mirin, and soy sauce. Chicken meat marinated mainly in soy sauce before cooking as karaage is called Tatsuta-age. The name derives from the fact that the cooked meat turns into an almost terracotta color, resembling Tatsuta River covered with autumnal red maple leaves – a classically famous scene depicted in ancient Japanese literature. Tatsuta-age cooked with fish like mackerel, sardine or salmon is also very popular.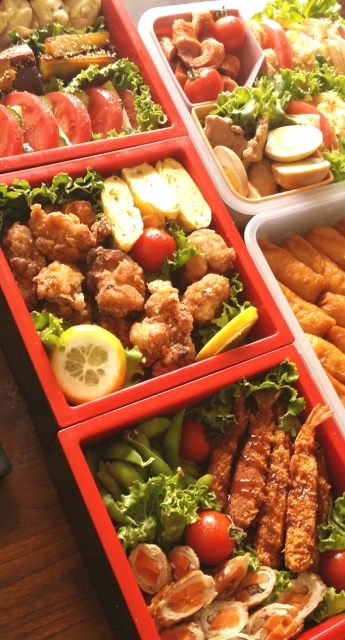 Nationwide Popularity
Legend has it that the origin of today's chicken karaage started in the northern part of Oita Prefecture, with Usa City proclaiming itself as the birthplace and the neighboring Nakatsu City the Mecca of karaage. Over 60 shops and eateries specializing in karaage are in these two cities alone. For years an annual karaage festival has been hosted in the region, but in recent years the festival has spread across the country with other major cities in different regions also hosting the event. There is even an annual competition called Karaage Grand Prix hosted by an independent body, Japan Karaage Association, to decide the best karaage of the year.
Karaage can be eaten as a bar snack with a glass of cold beer or as a main dish with a bowl of rice and miso soup. The dish is loved by almost all generations from youngsters to the elderly. From Japanese-style restaurants, izakaya bars, to take-out osozai counters at supermarkets and convenience stores alike, this affordable chicken dish is simply unmissable anywhere and everywhere. It is branded as 'B-kyuu Gurume (B-Grade Gourmet)', the Japanese term for street food-type, inexpensive yet delectable food as opposed to fine dining. Homemade karaage is also popular, and to cook karaage easily and efficiently in the comfort of your own kitchen, there are a wide range of seasoning powders available in stores. Simply dust the chopped chicken or any other ingredients of your choice, coat them in shop bought karaage powder and simply deep fry. You'll be tucking into scrumptious home cooked karaage in no time. For those who are conscious of their intake of calories, there are karaage powders for grills or microwave cooking.
Because the ingredient is marinated and seasoned well before being cooked, karaage is expected to retain its succulent taste and tenderness in texture after it is cooked and turns cold. This is why karaage is one of the most popular features in Japanese bento (i.e. packed meals).
Regional Variants
There are dishes of chicken karaage with regional twists in terms of cooking, tastes and even the naming.
Zangi is popular in Hokkaido but the difference with an orthodox karaage is unknown, although the locals would argue Zangi is chunkier, juicier, and packed with stronger flavor with a distinctive hint of garlic.
In Nagoya there are many shops specializing in fried tebasaki (chicken wings) dipped in special sauce. Each eatery has a sauce with its own secret recipe, so you might want to crawl from one shop to another to find your favorite. Nagoya is also famous for its native bred chicken, so karaage cooked with this Nagoya Cochin chicken is definitely worth a try.
Miyazaki is known for its local dish called Chicken Nanban, which is a far cry from ordinary karaage. A butterflied chicken breast fillet is deep fried with egg batter and dipped in a sweet and sour Nanban sauce. It is served with a generous amount of tartar sauce.
Toriten, a chicken dish from Oita, is as popular as karaage. The cooking method starts off by marinating the chicken with the same condiments as karaage, but turns a different corner by dipping into the tempura batter before frying.
It goes without saying they are all chopstick licking good!