Location
Going down Zenkouji-Zaka slant on Kototoi Street from Ueno Hill, we can reach Nezu-intersection where
Kototoi-Street crosses with Shinobazu-Street.
Turing the crossing to left, we can soon come to an old 2 story-wooden building with large and black louvers on the left side of Sinobazu-Street. Behind the building an old 3 story-wooden building is standing out.
That is a well-known Kusiage restaurant named "Han-Tei" in Tokyo. The area around "Han-Tei" is called Nezu where we can access to Nezu-Shrine in the north-west., Ueno Park in the east, Tokyo University in the west and Sinobazu Pond in the south, each within walking distance. In ancient time here used to be an inlet of Tokyo Bay.
Kushiage
"Kushiage" is showing a way of Japanese cooking, deep fried food stuffs on skewers. Food stuffs such as meat, sea food and vegetables are sliced into a bite size and prepared to put on skewers. Then these are usually coated with flour, beaten egg and bread crumb, and then deeply fried. This way of cooking varies according to each restaurant.
Some of them might use grated Japanese Yamaimo Yam as the binding agent as well as add milk.
A large volume of sliced cabbage is usually served as side dish together with Kushiage.
Kushiage is fried and for good taste seasoned with Worcester-sauce-based gravy mixed with soy sauce and brewed vinegar, or soybean paste, or salt, or sesame sauce, or tartar sauce.
It is said that "Kushiage" has its roots in fried skewered meat called "Kusikatsu" which was served by a certain stall for blue-collar workers in Kamagasaki district in Osaka City. Since then It has become familiar and cheesy food even to ordinary people across the country because it is easy to eat and it offers soft and crispy texture.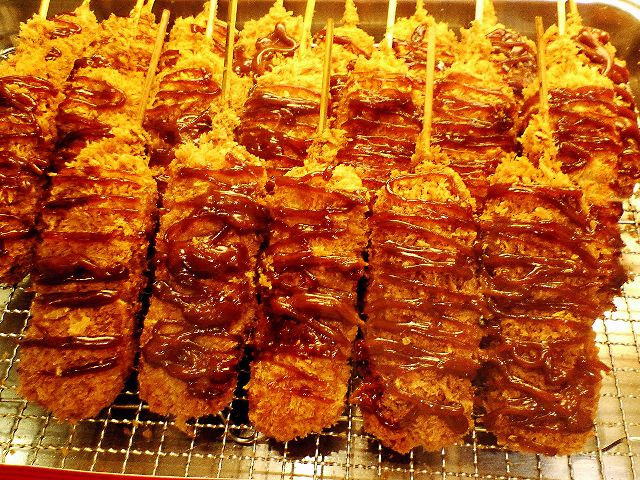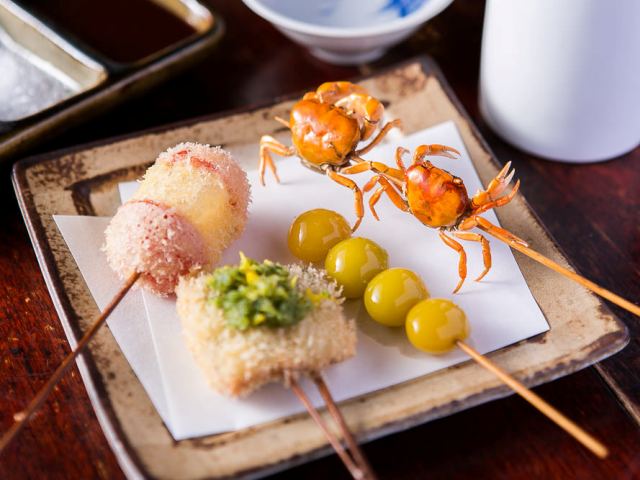 Kusiage Restaurant "Han-Tei"
"Han-Tei" in Nezu is an sophisticated Kushiage restaurant with the appearance of old merchant house called "Machiya" existed in Taisho period around 100 years ago.
They are one of the few Japanese restaurants in Tokyo where one can enjoy the refined taste of Kushiage and smack one's lips with relish in an atmosphere of good old days.
Kushiages served at Han-Tei restaurant are prepared to sort out only fresh and qualified seasonal food stuffs such as vegetables, beef, pork, chicken, various fish and shells, mushrooms and etc., by cutting these into small sizes convenient to eat.
These pieces are deliberately skewered with bamboo sticks, wrapped with flour, dipped in egg wash and again coated with fine grained bread crumb. And finally these skewers are fried deeply in a cottonseed-oil-based blended oil with lard, salad oil and flavored with sesame oil.
Immediately after frying a small assorted batch with 6 skewers on a bamboo sieve is served to a table so that one can enjoy the freshly-fried lot as if with a sizzling sound while tasting them with salt or soya bean paste or Worcester-sauce or lemon drops to one's liking. And one can also refresh one's mouth with such fresh vegetables sticks as cucumber, radish and cabbage. Han-Tei can offer more than 150 items of colorful food stuffs through seasons and are ready to serve more than 36 per a day.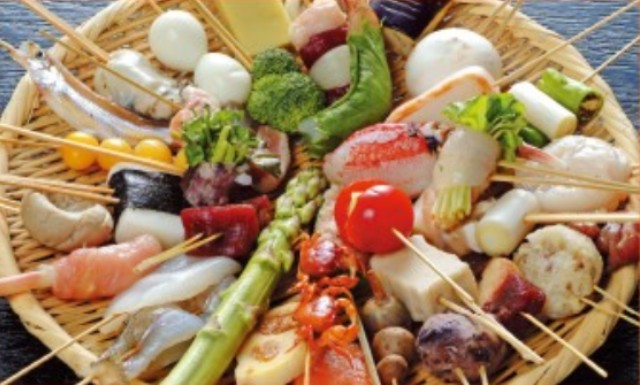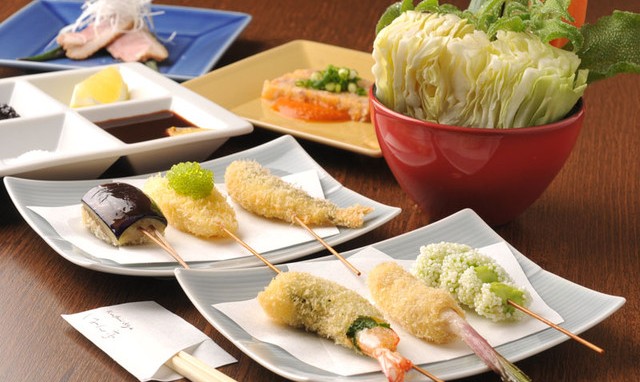 Historical Building "Machiya"
The traditional 3- story- building of Han-Tei was built with full of Japanese Zelkova wood almost 100 years ago.
It lets us feel something tasteful of old Japanese merchant house at every turn. It has been designated as a registered tangible cultural asset.
It was originally constructed as a store with workshop for selling and manufacturing protective covers on a clog in 1971 in Taisho Period. About 40 years ago, Han-Tei bought it and renovated for Kushiage restaurant.
The first floor is equipped with tables and seats to accommodate guests. There is also an isolated guest chamber at the center of the floor which was renovated from an old storehouse. A wainscoting is being displayed on the wall as an ornament. The second and third floors are laid with Japanese straw floor coverings called Tatami mats.
Each floors' windows are shielded with paper sliding doors.
In the mean while the lattice windows are arranged at the outer sides of the building and a lattice door is used for main entrance.
A traditional arched bamboo fences called INU-YARAI are set on surroundings of the building to protect lower walls from fouling. A marsh-reed screen leans against outside wall to shield sun light.
Looking up the façade of the building, several numbers of bamboo screen are hung under the eaves of second and third floors, and the edges of small and narrow terraces on each floor are surrounded by balustrades (handrail ).
The Roof is tip garbled style and covered with ceramic tiles. Its eaves are formed double teared.
These traditional architectural features and fittings have been hardly observed now in urban area. They are worth visiting once. The building is landmark in Nezu area now.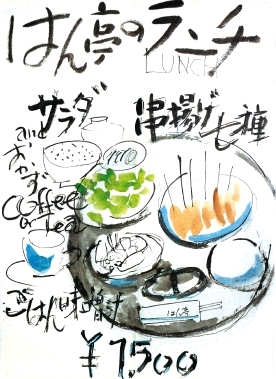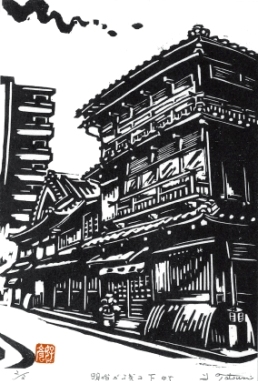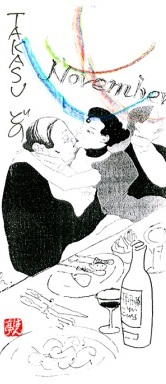 Nostalgic Atmosphere
Han-Tei is servicing refined Kushiage dishes in traditional Machiya-style building which has been periodically renovated in consideration of harmonization between old and new installations. This might provide guests with a nostalgic atmosphere which gives them a feel of relaxation, serenity and healing even in hustle and bustle of urban area.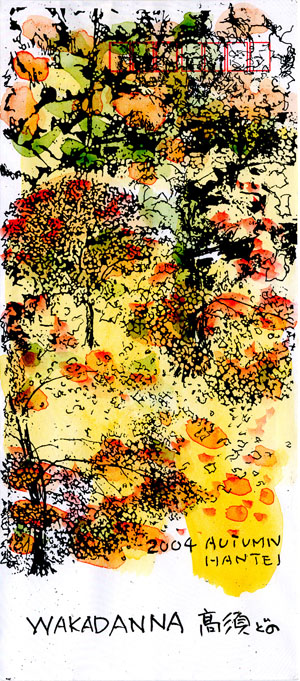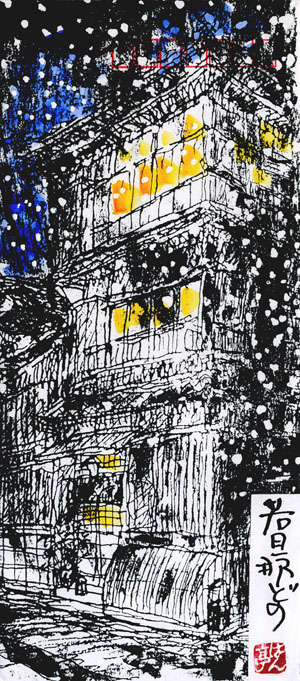 HANTEI
1. Holiday Monday
2. Business hour 11:30-15:00 & 17:00-23:00
3. Address 2-12-15, Nezu Bunkyo-Ku, Tokyo, Japan
4. Nearest Station Nezu on Chiyoda-Line
5. Tel 03-328-1440
6. Web http://www.hantei.co.jp/nedu.html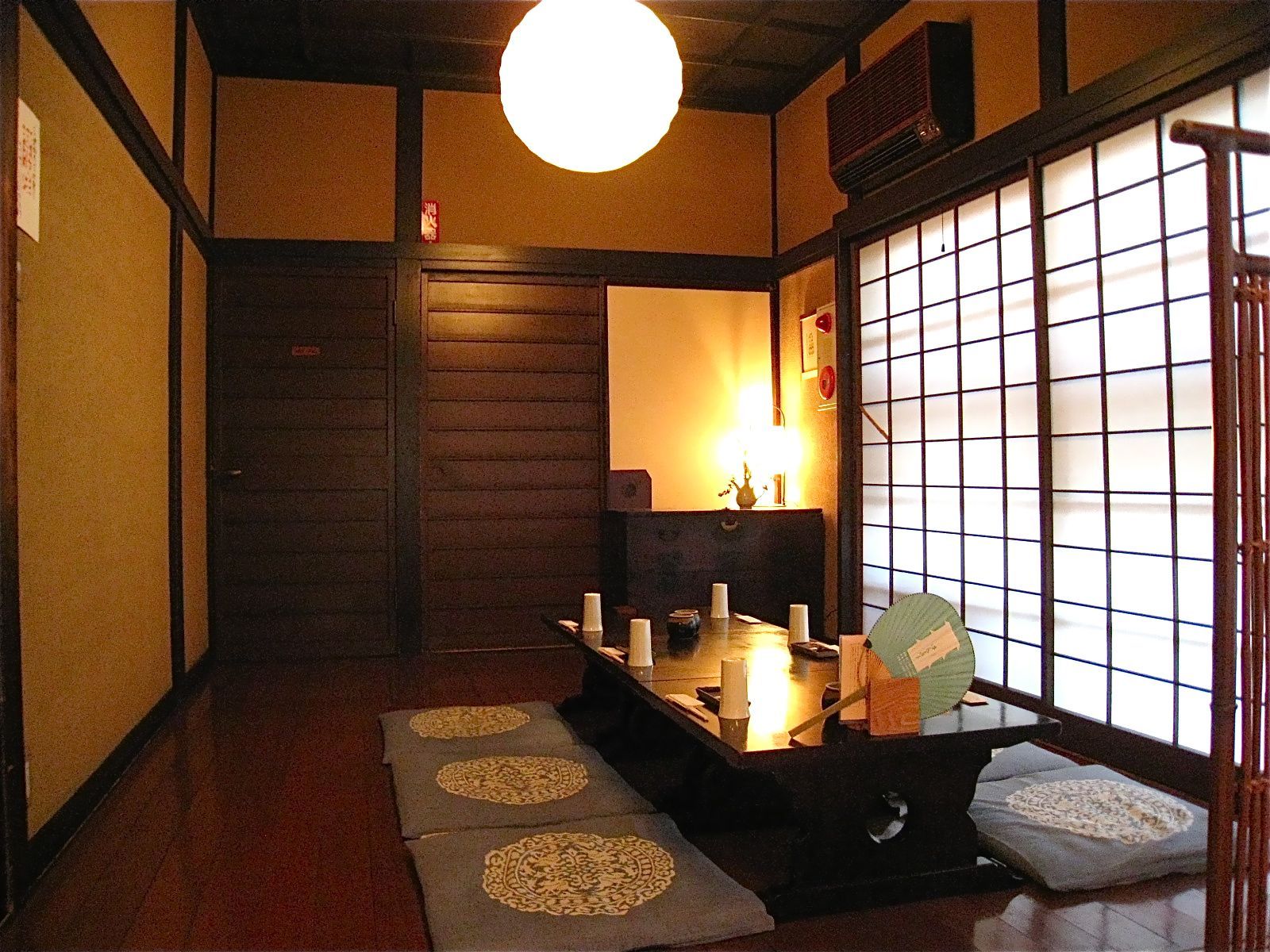 HANTEI