The story of a tree cake that rooted and grown big in Japan
What is Baumkuchen?
Simply put, baumkuchen is a ring-shaped cake with layers that resemble tree rings. 'Baum' means tree and 'Kuchen' is cake in German, so as the name implies, its origin is said to be Germany. It is rather predictable that it had branched out to the neighboring countries and went through makeovers into regional variations, but never in a million years would people in Europe have thought it would find its way to become one of the most favorite confectioneries in the Far East.
The key ingredients of baumkuchen batter are straightforward: eggs, sugar, butter, and wheat flour. Other ingredients such as lemons, vanilla essence or liquors such as rum may be added to enhance the fragrance and marzipan for the texture and the flavor. Traditionally it is baked by brushing the batter on to a heated rotating spit repeatedly. The batter needs to be brushed evenly to create neat layers, which is the main feature of this cake. The end product will resemble a tree log with a hollow middle. Finishing touches may be added by coating the side of baumkuchen with fondant sugar paste or chocolate glaze. Baking this rather onerous and time consuming pastry requires skills, so back in Germany, many baumkuchen bakers have had earned the title of "Meister" to praise their expertise and craftsmanship.
The First Baumkuchen Introduced by a Prisoner of War
During the First World War, an entrepreneurial German baker was taken to Japan for internment from mainland China. His name was Karl Juhheim. In 1919 Juhheim baked the first baumkuchen in Japan while he was still held at the internment camp. It was sold to the public at a commercial exhibition in Hiroshima. After he was discharged, Juhheim and his wife Elise settled in Japan and opened a bakery shop in Kobe which eventually grew into a major German-Japanese confectionery brand in later years. Ever since Juhheim baked and sold his so-called 'pyramid cake', the Japanese have been mesmerized by the beautifully layered form and the delicate flavor of baumkuchen. 'Juhheim' is now a household name and its products can be purchased throughout the country.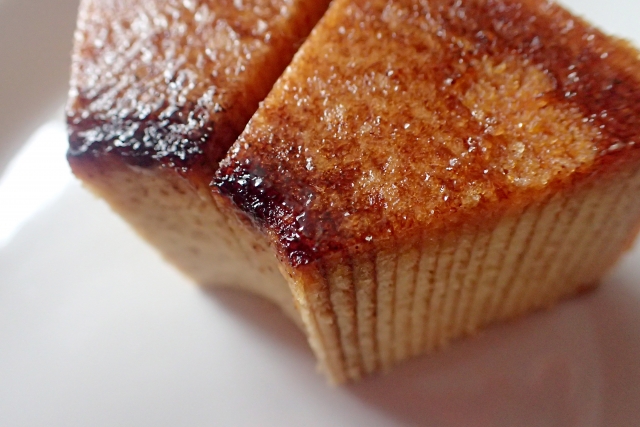 Today's Baumkuchen
In today's Japan, many first class pâtissiers to commercial confectionery manufacturers produce their own version of baumkuchen. There are even pastry shops specializing in baumkuhen only. Price ranges vary, but unlike fancy entremets it is generally affordable. The form it is offered in varies too- it can be sliced to retain its circle shape or cut like a wood log. Some places serve it by cutting thin slices just like shaving the bark off a tree. The texture of the cake is one of the key characteristics baumkuchen lovers would be particular about. Many Japanese prefer light, moist and springy, almost sponge-like cake to the firm, doughy textured baumkuchen. But that does not mean everybody opts out from the latter type. People have different tastes and preferences- each to their own. And fortunately bakers and manufacturers cater for both types.
The cake is well received as a gift or a souvenir. It is particularly popular at weddings because its shape resembles a wedding ring. The newly wedded couple would hand out baumkuchen to their well-wishers in return for the wedding gifts.
Japanese have been creative by inventing various flavored baumkuchen you would probably not come across in its homeland. Chocolate and caramel flavors are delicious, but they might be conservative and hardly adventurous. Matcha, strawberries, and bananas might be unusual but predictable, whereas cheese, black sesame, tea leaves, salted cherry blossom leaves, and melons are definitely out of the norm!
A variety of quirky desserts with baumkuchen are found at some pastry shops. The popular technique is to fill the hollowed center with the likes of fruits, chocolates, fresh cream, custard cream, and bean paste. Some hybrid desserts adopt even more painstaking techniques by baking crème brulee or cheesecake in the cast of baumkuchen. There is also a range of baumkuchen filled with cream in the center and sandwiched between delicately baked, dacquoise-type cakes available at major JR stations in Tokyo.
So there you have it, a German tree cake has transcended. When you are in Japan and fancy a slice of cake, may we interest you in trying 'Baamukuuhen' (the Japanese phonetics for baumkuchen)? Just don't be dissuaded by the fact that it sounds German because it is almost a national confectionery; even many young Japanese think it was created in Japan.