A Puffed Cabbage Filled With Cream? – The Popularity Of Choux Creams In Japan
With its origins in France, this style of confectionary known as choux à la crème in French is also known as cream puffs or profiteroles in English. Here in Japan, it is branded under the coined term of the two languages: 'choux cream'. Choux cream is one of the extremely popular western style confectionaries in this country.
The cabbage-like puff gateau was said to be invented in the sixteenth century by a pastry chef from Italy. Legend has it that he was one of the members of staff Catherine de' Medici, the wife of Henry II of France, brought to the French Palace from Florence. The light choux dough is made of eggs, flour, and butter. It is typically piped onto a baking tray and baked to puff, resulting in an airy texture with a hollow center and filled with cream.
There is not much record on how choux pastry made its way to this country. According to the historians, the first choux à la crème was introduced in Japan in the nineteenth century by a French pastry chef. How they evolved to the present national favorite is also unknown, but only after the refrigerators became a popular household appliance between the 1950s and 1960s choux creams rose to popularity. Choux creams are generally filled with fresh cream therefore it is vital to keep them chilled before served.
Japanese Versions
So how do Japanese like their choux creams? Typically the texture of choux pastry is light, soft and moist from the cream filled inside. Creams are usually freshly whipped cream, custard cream, or half-and-half of the two. Frozen choux casts filled with ice cream are also very popular. Such ready-to-eat choux creams are available everywhere. From almost any western type confectionary shops to supermarkets and convenience stores, you are likely to find soft choux creams filled with generous amount of cream. Typically the cream is plentiful and it will ooze out when you bite in. The key to the success choux creams have been enjoying is not only because of its heavenly, creamy and soft texture but it also owes to its relatively affordable price range compared to other fresh cakes. Besides, a wide variety of flavors is also one of the notable features of Japanese choux creams. By adding the likes of matcha, kinako (roasted soy bean flour), azuki (sweet red beans) and black sesame to the cream, choux creams are transformed to Japanese-inspired confectionary. Mixing chocolates, cream cheese, fresh fruits or compotes of berries, peaches or any other fruits into the cream and, in some cases to the choux dough, is also well received. Several chains of choux shops offer flavors of the month such as sakura-infused cream in spring and pumpkin cream around Halloween season. Today we even see choux creams filled with soy milk cream for those who are lactose intolerant with a sweet tooth.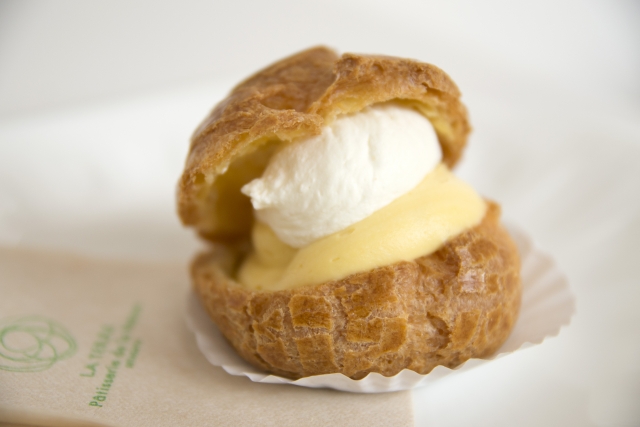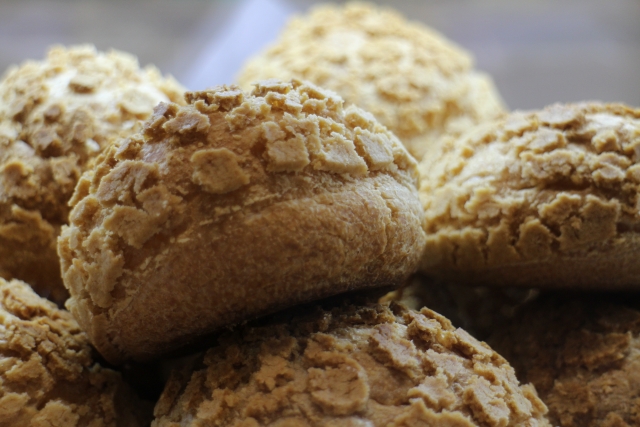 Latest Trend 1- Saku Saku, Kari Kari and Mochi Mochi

Now that the idea of inventive cream varieties seems to be wearing thin, the next thing many confectioners are exploring is the texture of choux pastries. Combining cookie or pie into choux dough results in two different textures with a crispiness on top of the usual choux pastry. Baking choux pastries by sprinkling diced almonds or nib sugar on top will give interestingly crunchy effect. The recent, well-received but odd newcomer is a choux cream with a chewy, firm marshmallow-like texture, just like Japanese mochi (rice cakes). The Japanese phrase for each texture is: saku saku (crispy), kari kari (crunchy) and mochi mochi (chewy). They are useful terms to express Japanese foods so why not take note?
Latest Trend 2- Back to the Basics?
Another detectable movement in the Japanese choux cream scene is the introduction of authentic French styles. A traditional centerpiece of large tall stack of small choux pastry balls called Croquembouche has been a popular alternative for a wedding cake in Japan. Lately we are seeing more traditional French-style cake shops in the nation offering classic-with-or-without-a-twist St. Honoré cake, a choux ring piped with cream, topped with small choux balls and finished with a touch of glazed caramel.
Firm textured choux caskets filled with thick crème pâtissière (that is custard pastry cream in French) is also a simple French classic recipe which is starting to gain popularity. Another latest newcomer is choux salés, a savory version of choux pastry filled with non-sweet fillings. Here in Japan they are offered in a larger size than the regular French, bite-sized ones. The baked choux serves as a bread substitute that offers a unique texture to enjoy with sandwich fillings in center.
Time will tell whether the Japanese would stick to the soft textured pastry with an oozing creamy filling which has been loved over a long period of time, or shift to the French authentic versions. Either way, we are currently evidencing an exciting battle between the classic French and the Japanese convention in the world of choux cream. Will there be a paradigm shift? Watch this space!