How To Beat The Heat in Japan (Part 1)- Kakigori
Summer in Japan can be an unpleasant thing. It's high in both temperature and humidity. You'll be sweating constantly unless you're in an air-conditioned place. You will lose your appetite and will only be craving for something cold and light, and as a result, you will be fatigued. So what could be a quick remedy?
Shaved ice, or 'kakigori' in Japanese, is a popular frozen treat during the summer season. A mountain of fluffy shaved ice in a glass bowl with abundant pouring of sweet syrup, condensed milk, and occasionally topped with ice cream, fruits or anko (sweet red bean paste) is sought after by all generations. Syrups are generally colorful and artificially flavored, ranging from fruit inspired pink (strawberries), yellow (lemons), red (watermelons), green (melons), dark green (matcha tea), to blue which is bizarrely named as Blue Hawaii. Traditionally kakigori has been made by spinning large ice cubes in a manual ice shaving machine. Today most ice shavers used for making kakigori are electric, resulting in evenly grated, fine powdery ice. In summer kakigori is sold at festival stalls, beaches and various restaurants and cafes. It can also be made at home by using the home appliance version of an ice grater.
The origin of kakigori can be found in a classic literature from as far as Heian era, around the tenth century. A journal written at the time refers to shaved ice served in new silverware with sweetened arrowroot as 'something noble'. One of the popular kakigori desserts is Shirokuma, originally invented in Kagoshima, the southern part of Japan with a mild to hot climate all year round. Translating directly as polar bear, its original form was said to be invented during the Edo era (around nineteenth century) yet over the years it evolved to the present form, flavored with condensed milk and decorated with the likes of sweet mochi (rice cake), colorful agar jellies, azuki (red beans) and fruits. Today there is a popsicle version of this popular ice available. Shirokuma in cups are also sold across the nation.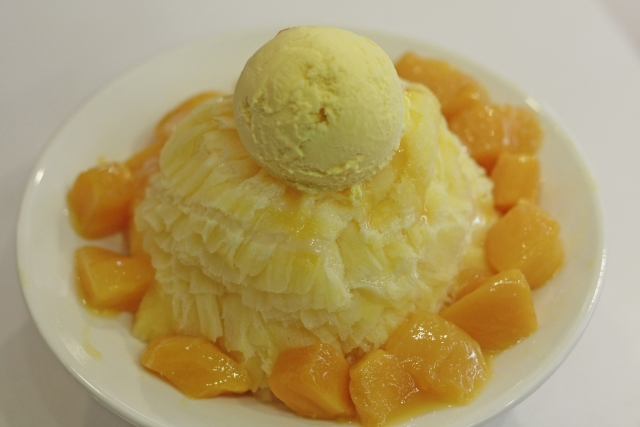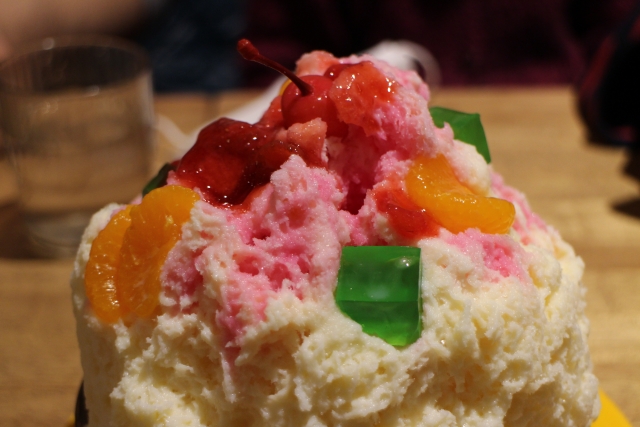 The frozen ice dessert has been around for a very long time but the recently found popularity owes to the introduction of the Asian versions as well as the high-end, western inspired desserts. The rising number of sweet shops offering Taiwanese desserts in Tokyo have seen baobing, the Taiwanese version of shaved ice, become an instant hit. Shaved ice for baobing is grated finer and fluffy in texture compared to Japanese kakigori. It is typically flavored with sugarcane syrup and topped with mango fruits and condensed milk. There are also baobing with Taiwanese bubble-tapioca tea inspired toppings and flavors, or even a mountain of shaved ice with an abundant pouring of pu-erh tea infused syrup. Patbingsu is a Korean dessert served at Korean restaurants. A colorful bowl of shaved ice covered with red bean paste, whipped cream and fruit cocktail is a dessert to cool down and cleanse your palate after a rich, hearty Korean meal. Halo-halo is a Filipino dessert with shaved ice and evaporated milk. One of the major convenience store chains has been serving halo-halo at its shops with fun-filled seasonal flavors such as salty lemon and popping candy.
Many hotel lounges serve cocktail-inspired shaved ice in a fashionable cocktail glass that is not only delicious but easy on the eye. Topping the shaved ice with fruit compote and caramelized fruits and nuts is a sophisticated version of kakigori, a far cry from its original, street-food type form. Baked Alaska is a hot and cold dessert with ice cream on sponge base coated with baked meringue. Now the rumor has it that there is such thing called 'yaki gori (baked ice)', substituting ice cream with kakigori, offered at a coffee shop in Osaka. Over in Tokyo there is a cafe serving arrays of beautiful kakigori which, at a glance, could be taken as alluring French pastries or Japanese inspired strawberry shortcakes. Furthermore, there is a popular franchise chain of cafes specializing in kakigori flavored with syrups made of fresh fruits or various Japanese ingredients such as matcha tea, ginger and black sugar, together with freshly baked, springy pancakes. Italians have granite, a frozen dessert made of sugar, water, liquor and sweetening flavors. But today there is an Italian-themed kakigori stand in Tokyo that serves shaved ice flavored with components of Italian sweets such as Tiramisu, flavored with coffee syrup and condensed milk with a scoop of mascarpone cheese. This place even serves olive oil, black pepper and basil infused kakigori, the essential ingredients of Italian cuisine.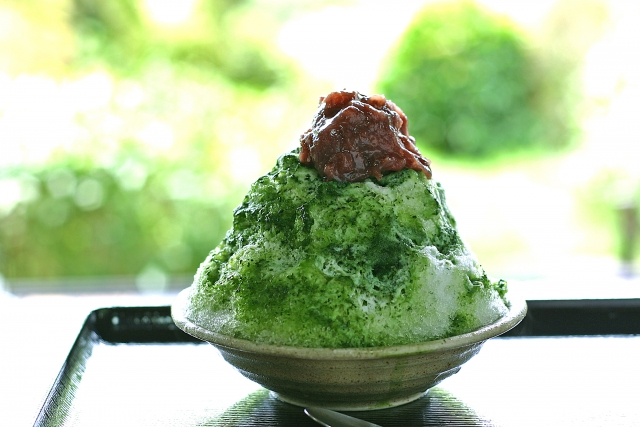 With the global warming and taking cold desserts within the comfort of warm heated indoors becoming more common, kakigori is gaining more popularity and becoming available all year round. Having said that, there is nothing better than having a kakigori on a hot summer day if you want to cool your body temperature in an instant.