There is a tiny Japanese confectionery shop with an appearance of a tea-ceremony arbor behind the Tokyo University of Fine Arts in the northwest of Ueno Park. The shop called "Tou-Rin-Dou" that literally means a gazebo in peach grove.
They are producing and selling Japanese traditional confectionery in the area of Ueno-Sakuragi where I have been living for more than 60 years. Sakuragi is located adjacent to Yanaka and also nearby Nezu and Sendagi areas that have been recently renamed as YA-NE-SEN. It is being observed that recently many strollers from outside these areas as well as foreign tourists are regularly visiting these sites all round the year.
Tou-Rin-Dou is around 15 minutes walking distance from Ueno Station and located just in between the Ueno Park and YA-NE-SEN. It occupies the best location for the visitors to catch their breath during the strolling.
Fudo-Ka
Tou-Rin-Dou does not call their sweets an ordinary Wagashi (Japanese traditional sweets) but "Fudo-Ka" which is created by receiving the blessings of nature. It is showing their basic process in manufacturing their sweets while keeping the flavor and taste of natural ingredients.
I have given the package of the assorted sweets to my relatives and colleagues as Bon-Festival gift and year end gifts.
My family members also enjoy the taste of "Fudo-Ka"
Go-Chi-Ka
There was another product named "Go-Chi-Ka" which was unfamiliar to me. Looking at the products being displayed in the showcase, they resembled candied fruits and vegetables such as an apple, a fig, a pear, an orange, a kumquat, a Japanese butterbur, a lotus root, a carrot, a burdock, a siitake-mushroom, a ginger, a bamboo shoot, a celery and etc. They are carefully boiled with sugar several times and then coated with qualified sugar.
The sweets are made of ingredients blessed by nature. It is said that they are manufactured through painstaking and time-consuming processes.
The candied food is said to be imported through Dejima-island in Nagasaki in Edo Era, and spread over the country.
Looking into the terms of "Go-Chi-Ka", it originates in the scripture of Singon Sect Buddhism which describes 5 images of wisdom Buddhas. The scripture interprets 5 Buddhas as primary objects of enlightenment. They stand for 5 elements of universe: space, air, fire, earth and water.
The story goes that "Go-Chi-Ka" might have been created by 5 blessings of the universe.
The candied sweets are popular all over the world. For instance, a candied violet in Vienna, a marron glace in France and traditional Chinese medicine named Ten-mon-do are all coated with sugar and honey.
I regarded "Go-Chi-Ka" as a mere sugar cake. However it is actually a unique confectionery item with a long history and a deep meaning. It is often served with green powdered tea in a Japanese tea ceremony.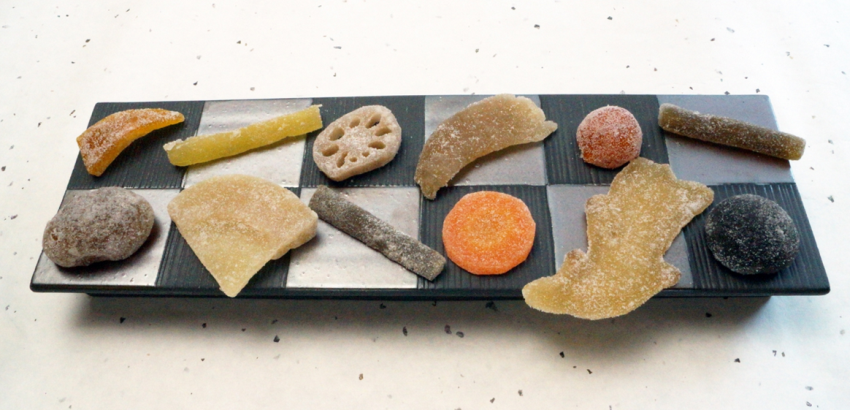 Kotai-Yaki and Fresh Mizu-Yokan
I have bought "Kotai-Yaki" sweets in autumn and winter seasons. It is a fish-shaped sweets which wraps sweet red beans
with baked dough coating. In summer, I have chosen "Fresh Mizu-Yokan" which is formed in a rectangular shape made of
the soft mixture of sweet red bean paste and agar jelly. Both the sweets offer a taste of refined sweetness and flavor to me.
These are usually handed over in beautiful wrapping. I have conveniently gifted those to my friends on special occasions.
These are too expensive sweets to be given to my grandchildren.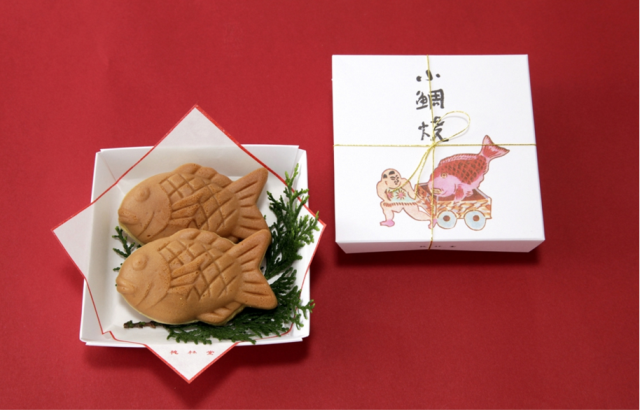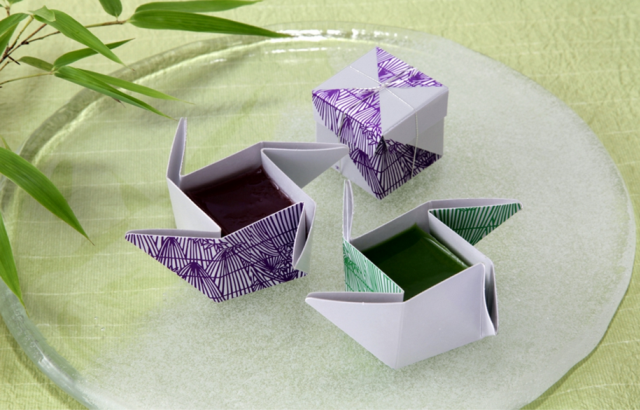 Kisuge-Kan and Peach of Desert
Seasonal sweets served with Japanese green tea.
The rainy season will end soon and then begin hot and humid summer.
A few days ago I visited Tou-Rin-Dou and then found pieces of cool-looking jelly sweets being displayed in their showcase.
They were named "Kisuge-Kan", "Peach of dessert" and "Droplet of peach" respectively. "Kisuge-Kan" is a transparent jelly block with pale green color in which gold-colored peels of Hassaku orange are wrapped. It is depicting the flower of "Nikko-Kisuge" (Hemerocallis) in summer.
"Peach of dessert" contains sliced selected peaches.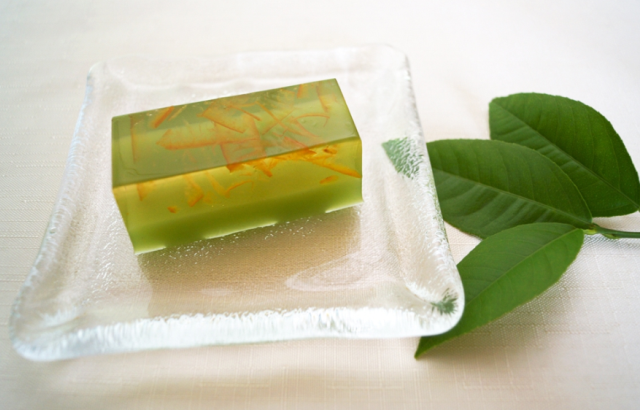 Droplet of Peach
"Droplet of peach" is a tiny bar of clear jelly seasoned with fruit liqueurs.
These jellies might draw foreign visitors' interest since these are very colorful and fashionable.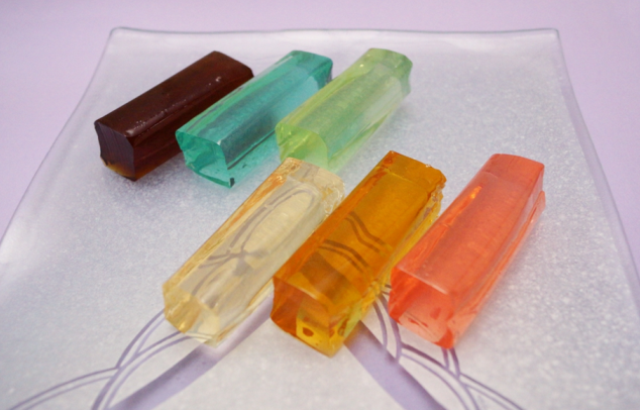 Café Noir and Mocaron
As to other sweets, "Café Noir" is a black jelly sweets made of coffee. "Mocaron" is a white bean paste cake with a citrus-flavor sandwiched between two roasted rice wafers. This style of the sweet is usually called Mo-Na-Ka in Japan.
The name is rhymed with French confectionary "Macaroon". The comical fusion of words might cause people to laugh.
These are challenges of the traditional sweets shop to develop brand-new sweets in accordance with the changes of food culture in Japan.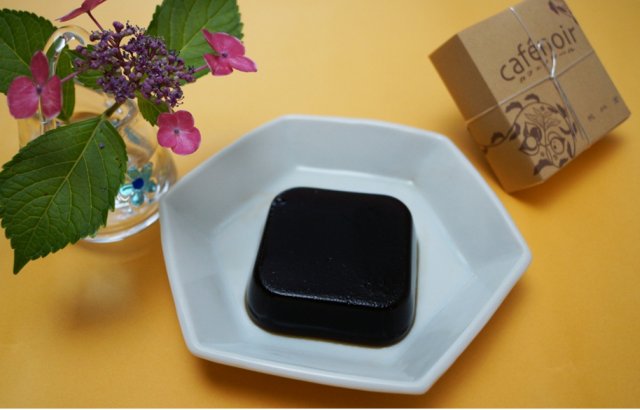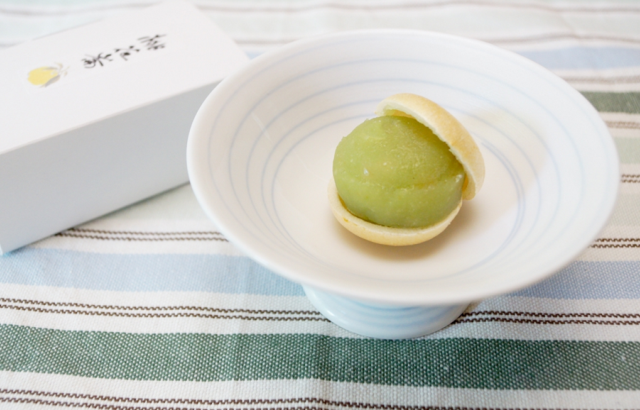 Enjoy their favorite sweets with green powdered tea
Tou-Rin-Dou is also provided with a corner for serving a green powdered tea with their sweets. 4 cane chairs are neatly
arranged to a platform floored with one sheet of Tatami mat. People can enjoy their favorite sweets with green powdered
tea at this corner. It is unfortunate that one can't enjoy traditional artistry in making green tea ceremony .
Tou-Rin-Dou is the shop where people can enjoy refined and traditional handmade sweets incorporating seasonal blessings
of nature.
I would like to recommend foreign tourists to drop by this shop on the way to Ya-Ne-Sen areas or to Ueno Park.
Tou-Rin-Dou
1. Holiday Monday(except national holiday) & Jan.1st-3rd
2. Business hour AM9:00-AM5:00
3. Address 1-5-7, Ueno Sakuragi, Taitoh-Ku, Tokyo, Japan
4. Tel 03-3828-9826
5. Fax 03-3821-4860
6. E-Mail torindo@blue.ocn.ne.jp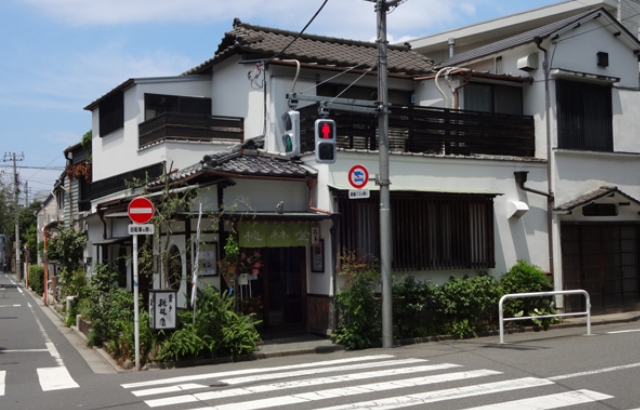 Tou-Rin-Dou Ueno